Field of Screams, located in Lancaster, Pa., is a haunted house attraction open Fridays through Sundays from Sept. 9 through Nov. 12. The park gates open at 6 p.m. and the attractions stays open until all guests have gone through.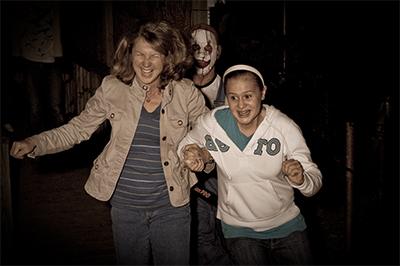 Brothers Gene and Jim Schopf developed the Field of Screams in 1993 and now market it as America's best haunted attraction. Each year, the owners add new twists in hopes of never delivering the same experience twice. Field of Screams is better than ever entering its 24th season.
Since its original opening, Field of Screams has added many new attractions, and every year continues to experience success. People from all over the country have traveled to Lancaster to experience the thrill of Field of Screams.
The Field of Screams has four main attractions that interest most visitors: the Nocturnal Wasteland the Haunted Hayride, the Den of Darkness and the Frightmare Asylum. The four attractions have their own unique and terrifying twist.
Visitors to the Nocturnal Wasteland walk through the dark and quiet woods, while the inhabitants of these woods jump out and terrify whoever walks through. The Nocturnal Wasteland was recently added in 2013 and has been a major hit ever since.
The Haunted Hayride takes visitors through a terrifying cornfield with several stops along the way. Throughout the 20-minute ride, killer clowns, the undead, as well as weapon-wielding serial killer characters terrify visitors.
While in the Den of Darkness, a three-story barn, visitors are frightened by eerie music that plays while what looks like mannequins pop out of nowhere and deliver gut-wrenching scares.
The Frightmare Asylum, also a 200-year old barn converted into a horror house, is filled with demented stalkers, bloody operation tables and uncontrollable patients.
With over 200 actors in costumes, original barns transformed into houses of fear and very realistic visuals, Field of Screams delivers a scare that will have visitors' skin crawling.
Along with the four main attractions, Field of Screams offers other entertainment every weekend including live rock bands, contests and skill-testing games. The best way to get the experience of Field of Screams is to visit the frightening attraction which is only about an hour and a half away from Stevenson.
Tickets can be purchased over the internet or on site. The cost of the four attractions is $34, and discounts occasionally show up on Groupon. Entrance to each attraction can also be purchased separately.