In September, the store that people have been eagerly anticipating is finally open to the public.
Under construction for over two years, the newest shopping center in Owings Mills, Foundry Row, has opened with numerous stores and restaurants, but most importantly, Wegmans.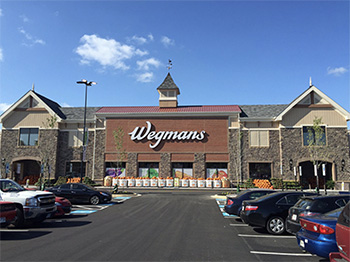 Shoppers everywhere flocked to this new supermarket on its opening day. Adding to the Safeway, Giant, Target and numerous other grocery stores in the surrounding area, Wegmans has been gaining interest.
Housing its own sub shop, fresh food bar, pizza stand and burger bar, Wegmans Market Cafe has become very popular. Shoppers who choose to visit for dinner, rather than shopping, have the opportunity to check out in the restaurant side of the store, and not be bothered by lines of customers on the grocery side.
Separate aisles in the store cater towards those with food allergies or restrictions. Shoppers who prefer gluten-free, organic, or a kosher diet can easily locate food within their dietary restrictions.
While most grocery stores have a deli and salad, Wegmans has successfully combined grocery shopping with an eatery, which allows its customers to choose from a wider variety of foods.
Wegmans offers a variety of lunch and dinner options, moreover; they also have a variety of desserts. The bakery's gourmet items are perfect for dinner parties or guests. Wegmans' signature classic cakes and cookies are also available.
Besides a variety of delicious desserts, a dedicated candy aisle offers shoppers the chance to choose the candy and the amount that they want, and then pay by the pound. Similar to Candy Kitchen, Wockenfuss or other similar stores, this unique feature can be a dangerous temptation for college students.
For shoppers over 21 who enjoy wine and cheese nights, there is a shop dedicated to a wide selection of cheeses, including imports. These cheeses are sold by the block, and many times there are free samples at the Olde World Cheese shop.
Wegmans provides the needs of a grocery store to its shoppers while creating a shopping experience customers will want to repeat. The Wegmans experience is like no other.