As the fall sports conclude, winter sports are starting to swing into full gear, and the Stevenson men's basketball team is no exception as the men prepare for their winter season.
The Mustangs look to improve on their 11-15 overall 2015-16 season with a 9-7 record in Middle Atlantic Conference (MAC) Commonwealth play last year.
"I feel like we had all the right pieces, but we just came up short," said senior Ryan Hill. Last season, the Mustangs ended with a first-round tournament loss to Lycoming College. That appearance was their fourth straight MAC Commonwealth championship tournament.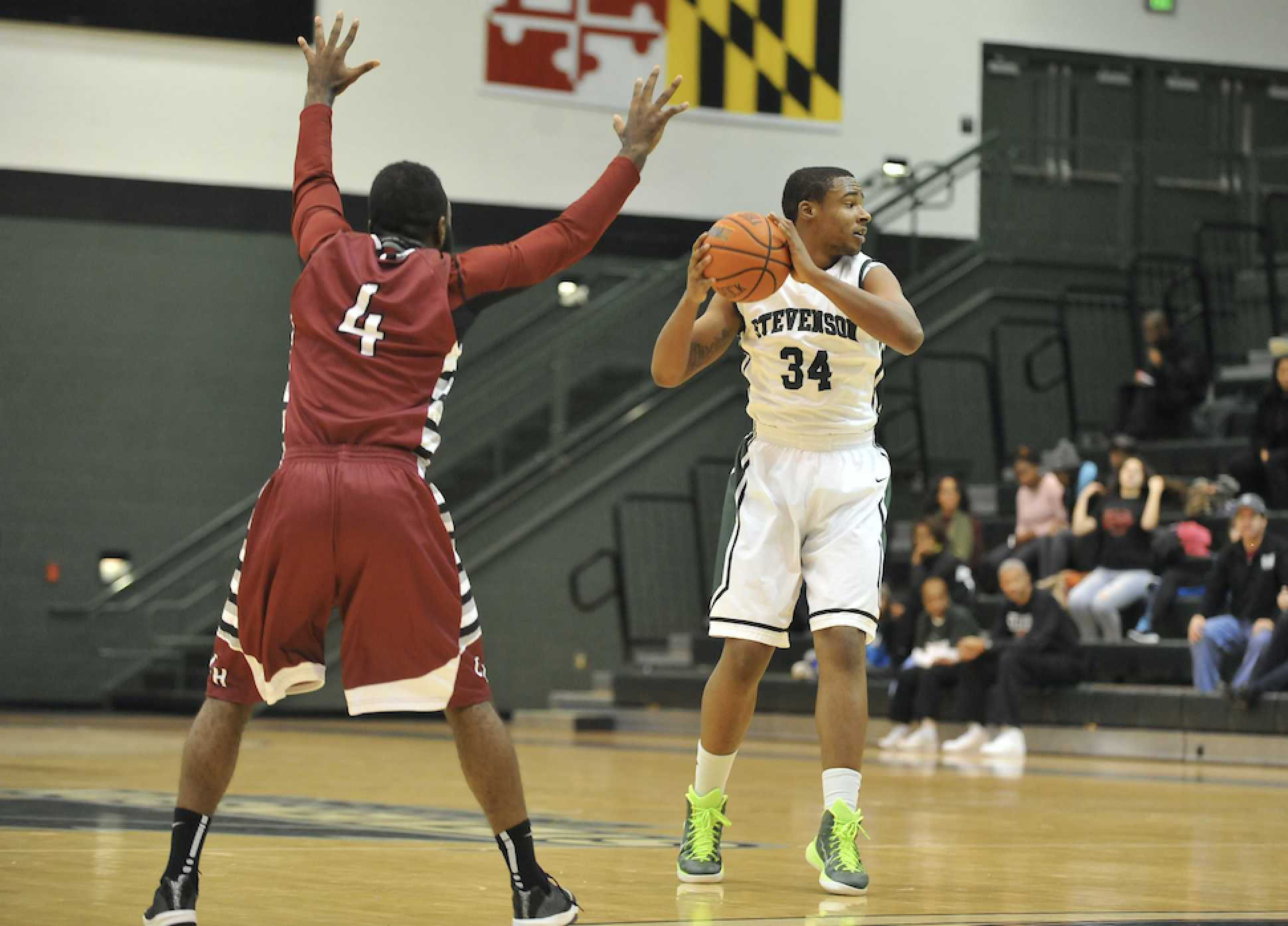 The team is lead by head coach Gary Stewart, who enters his sixth season at the helm of the Mustangs. Assisting him are coaches Jeff Smith, entering his third year, and Alex Franz, entering his sixth year.
New to the coaching staff is Maurice Williams, who admitted wanting to coach at Stevenson "mainly because of the opportunity to work with coach Stewart," praising the veteran coach for his well-known reputation in the basketball world.
"To be a part of something new and different was an opportunity I couldn't pass up," said Williams, a graduate of Frostburg State University, with a background in coaching at St. Mary's Ryken High School, Salisbury University and his alma mater, Frostburg State.
The Mustangs have a new look, losing six seniors after last season.
"It's a good thing. It's supposed to happen," said Stewart.  "The new guys bring unbridled enthusiasm. You get to develop them and teach them."
With the season on the horizon, the team looks to improve on last year.
"We're doing different things here with this group that we didn't with the previous group in terms of how we're going to play," said Stewart, musing on this team in comparison to last year's squad. "I think we have a lot of guys that can play different ways."
The Mustangs come into this season ranked seventh in the 2016-17 Commonwealth men's basketball preseason poll, tied with Hood College. Last year the team finished tied for third place with Arcadia University.
"I feel real good about this year. We got a lot of good pieces. We just have to work on putting them together and having them work with each other as best possible," said Hill.
The Mustangs open their season on Tuesday, Nov. 15 at Elizabethtown College. The men's home opener will be Friday, Nov. 18 against Lynchburg during the Hoopsville National Invitational Classic.