Entrepreneur Gary Anderson will serve as the new executive-in-residence at Stevenson University's Office of Career Services.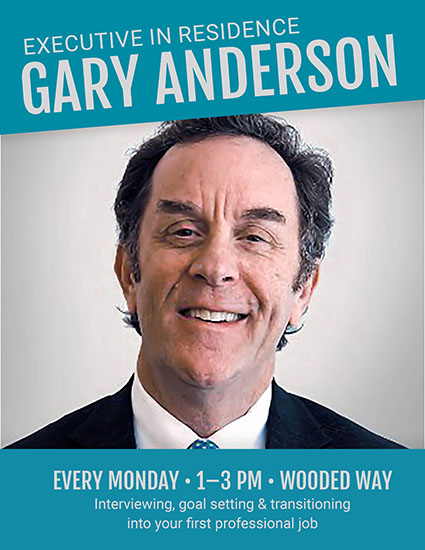 Anderson will be available for one-on-one mentoring opportunities for students at Stevenson, with sessions scheduled for every Monday, from 1-3 p.m. in Career Services, located in Wooded Way.
"He'll really help students gain a perspective from the employer's side of things through the hiring process and so on," said Jacqueline Goetz, coordinator of events and marketing in Career Services. "His professional experience will make him an excellent resource to prepare students for future employment."
Anderson said serving as an executive-in-residence is a great opportunity to give back to the community by helping develop the next wave of successful leaders.
"I believe Stevenson's students tend to be more forward thinking and progressive," said Anderson. "I like to help people fine tune their goals and develop the steps for them to get there…Employers like to know that you have obtainable goals in mind."
Anderson graduated from Loyola University Maryland with a M.S. in finance, and is a former corporate vice president of sales and a winner of the Corporate Sales Excellence Award.
"I have also learned that great leaders and sales coaches are able to fit individual talents to tasks using possibility thinking (how and what questions) in five key areas—thinking, relationship, impacting, striving and structure," writes Anderson on his LinkedIn profile.
Entering a career after graduation can be difficult, but the Office of Career Services offers resources that help eliminate some of the stress associated with the process. With the support of dedicated staff members and industry-specific career experts, students can develop a customized strategic plan based on their goals and personal interests to aid in success after graduation.
Students can schedule appointments on their own through Handshake or contact the office directly at 443-352-4477 or [email protected]. For more information, visit Stevenson's Career Success page.