Tough competition is a good measuring stick for any team. It may not result in wins early, but it is a great proving ground for teams at the beginning of the season. The Stevenson men's basketball team is 1-4 to start the season, but the team has high hopes for the the games ahead.
For coach Gary Stewart, the focus is not on the record but on how the players perform on the court.
"I'm fixated on our play. So do I have concerns on the way were playing? I certainly do. We certainly have some areas that we need to get better at," Stewart said.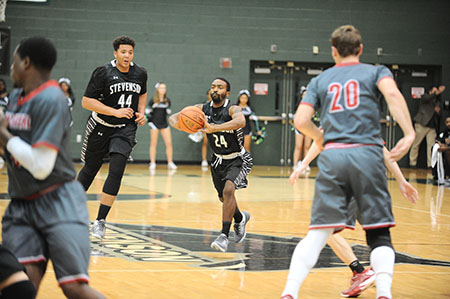 One event that helps Stewart in his assessment of the team is the Hoopsville Classic, held at Stevenson each year, that brings some of the best Division III basketball programs together for one weekend to compete against one another. For Stevenson, it's a chance to see how the Mustangs stack up against top teams around the country.
"It shows us obviously all the work in front of us to get better but also shows us where we stack up with national competition. That's invaluable," Stewart said.
Stevenson is coming off its first win of the season on Nov. 26, beating Penn State Berks 84-82, thanks in large part to junior transfer Cliff Cornish, who put up 25 points on 9 of 14 shots with 14 rebounds. Freshman Cameron Hayes added 12 points with 2 rebounds and an assist. Freshman Tim McNeal also chipped in 11 points and 13 rebounds as the Mustangs captured win #1 of the young season.
Senior Ryan Hill said the additions of Cornish and junior transfer Christian Collins have made practices much more competitive.
"They definitely bring that competitive edge to practice," he said. That tough competition is important for the Mustangs who have so many freshmen on the team trying to get their footing and an edge on playing time.
Conference play began last night  against Albright College, where the Mustangs were defeated by a final score of 64-58. The team plays again on Dec. 3 at Widener. The Mustangs hope to carry the momentum of their first win into the season as they work to be a force in the Middle Atlantic Conference.