Residents prepare to move out
Although students are eager to leave for the holidays, there are still some important things for residents to accomplish other than acing their finals. The staff and resident assistants have vital jobs when it comes time for students to move out of their residence hall rooms for the five-week holiday break.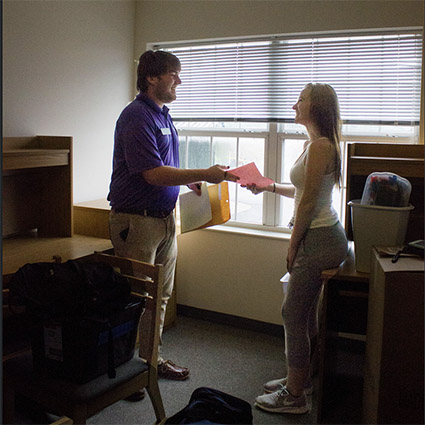 Towards the end of the semester, emails are sent out instructing students on what must be done before they leave. John Kimenhour, a resident assistant, explained that all of the RAs have a checklist they use as their residents depart.
Kimenhour said his checklist includes "checking the room for anything that should not be there, in addition to making sure that if the student is not returning or transferring, that the room is move-in ready."
"Take all your valuables home and remaining items of importance should be put in a spot, not out in the open," said Kimenhour. He added that everything must be unplugged except the major appliances like the refrigerator and microwave.
MAKE AN APPOINTMENT
Those who are no longer attending Stevenson after the break must have a resident assistant check the room to make sure it is empty and any damages are noted. Resident director Evan Huckfeldt sends an email reminding students of what is to be done by those who are not returning. The reminders include removing everything from the room except items that were provided by the school. Trash and recyclables must be removed, and students must also clean their rooms and the furniture.
CLEAN IT UP
Residents must also remove items they have hung or placed on the walls and doors. If the room is not cleaned correctly or there is noticeable damage to the walls, room itself or furniture, students can be charged on their financial accounts. When students who are not returning to Stevenson are ready to leave, they should locate a resident assistant in Ratcliffe to complete the checklist for approval.
Students returning for the spring semester also complete the list above and sign out on a sheet attached to their door provided by their resident assistant. As the semester is coming to a screeching halt, students must make sure their rooms are clean and tidy before they depart for the holidays.
Leave a Comment
Donate to Stevenson Villager
Your donation will support the student journalists of Stevenson University. Your contribution will allow us to purchase equipment and cover our annual website hosting costs.