Swim team brings home nine medals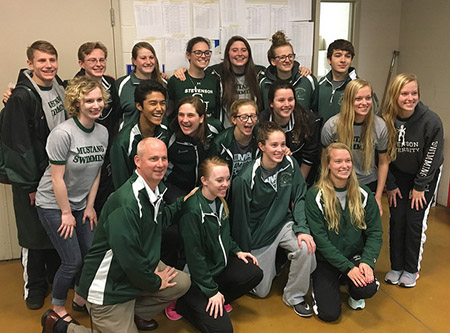 Stevenson University's men and women's swim teams traveled to York, Pennsylvania, Feb. 9-12, to compete in the Middle Atlantic Conference (MAC) Championships against other colleges in the conference. The women's team finished fourth, while the men's team finished in 11th place.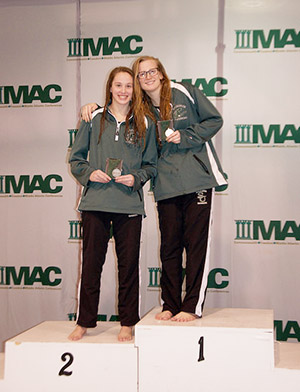 This will be the third year that Stevenson has participated in the MAC Championships. The teams have been training vigorously for the event, according to Gomustangsports.com.
Head coach John Stuhltrager has been training both teams in such a high volume in order to best prepare each swimmer during the championships.
"We are not the biggest team in the conference, but we will score as many points as we can," said Stuhltrager during an interview with Gomustangsports, adding that the teams had been training for several months leading up to this event. Stuhtrager is known by the swim team members for his motto: "You can swim faster when you're tired."
Adrianna Kamosa, a senior on the women's team, said, "We will be surprising a lot of people and looking to break some of our own records and personal best times," defining the overall goal of the women's team.
"When our team grows, I think we are going to surprise a lot of people. Arcadia's team is fairly new, but they've been around a little longer than we have," added Elizabeth Kamosa, who noted that Arcadia University was one of their toughest opponents.
Stuhltrager was named the women's swimming MAC Coach of the Year for the 13th time in his career, which included 11 years at Albright College. Other notable achievements were impressive. Freshman Julianna Burnett took third overall (bronze medal) in the 200-yard breaststroke at the championships, and won a silver medal in the 100-yard breaststroke. Freshman Melanie Milam won gold for Stevenson with a first-place finish in the 200-yard backstroke. Sophomore Isabelle Ramsland took third place in the 200-yard butterfly. Sophomore Colby Stein took first place in the 100-yard backstroke, with Milam taking the silver just behind her. Their efforts won Stein and Milam first-team all-conference honors. In the 400-yard medley relay, the team of Stein, Burnett, Ramsland and Milam earned the silver medal.
Stevenson finished the championships with nine medals –two gold, five silver, and two bronze.
The men's team finished in 11th place, with senior Zachery Cather taking fourth place in the 200-year butterfly, and several members of the team setting personal best records.
Leave a Comment
Donate to Stevenson Villager
Your donation will support the student journalists of Stevenson University. Your contribution will allow us to purchase equipment and cover our annual website hosting costs.