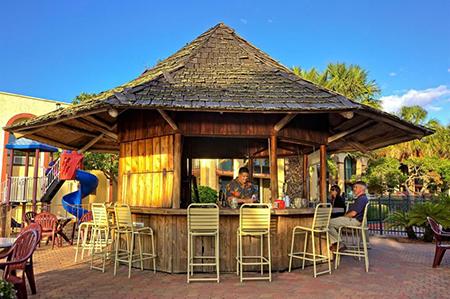 During spring break, students are looking for something fun, but at the same time no one wants to spend a lot of money. Hopefully this article may help travelers find a good balance between responsibility and relaxation.
PLACES TO GO IN MARYLAND

Are you looking for fun around Maryland? Don't have a passport? Are you just afraid to take that plane ride? Groupon has plenty of deals. Stick to the norm and stay at the Grand Hotel & Spa in Ocean City. This hotel is right on the beach and includes an indoor pool, spa and salon, gym, sauna, food and (the best part) free Wi-Fi.
A five-night stay at this hotel would cost around $353. If the activities in the hotel become boring, just five minutes away is the Jolly Roger Amusement park. A day pass at this park is only $22.
PLACES TO GO OUT OF STATE
If you have a little extra money and are looking to go out of the state (and are at least 21 years old), try Las Vegas, Nevada. The flight alone may cost almost $300 because of time of year; but the hotel will cost only $440 for five nights. The Flamingo Las Vegas offers a spa, salon, entertainment, food with a $20 credit and much more. For those who have never been to Las Vegas, Groupon offers a list of places to go for food.
For those who are not 21 years old, there are still options. Try Maingate Lakeside Resort in Kissimmee, Florida. A flight there might cost about $170 round trip and the resort is about $285 for a five-night stay. This resort comes with a mini golf course, three restaurants and pools, a complimentary shuttle and is pet-friendly. This resort is only two miles away from the Walt Disney World Theme Parks.
PLACES TO GO OUT OF THE COUNTRY
Aim for the sky. Let's go out of the country to Puerto Plata in the Dominican Republic. Groupon offers an all-inclusive three-night stay trip to Puerto Plata, Dominican Republic, at Be Live Collection Marien for about $629. This all-inclusive trip comes with airfare, unlimited beverages and food, nightly entertainment and water sports.
You could leave Mar. 13 and come back on Mar. 17 feeling relaxed, rejuvenated and ready to get back to work. The only catch is that the flight leaves from Fort Lauderdale, Florida – a flight may cost between $120–$130 to get to the airport from Baltimore.
There are many options out there for a good price. Do not let finances be the reason you lose out on fun.