Stevenson University's track and field team has started its outdoor season for 2017. The team is led by head coach Erick Camodeca, who has high expectations for the team and individual participants as well.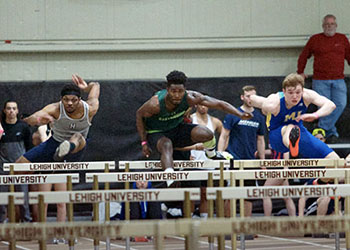 Camodeca said the goals for this season are to finish in the top three for both men and women in the conference, to have three men and women qualify for the NCAA national championships, and to have two All Americans on each side.
The team practices six times a week all across the Baltimore metro area, taking only Sundays or Thursdays off. They work out in the weight room three times a week as well.
"Lifting is very important for the program, and because the team is so large they are lifting all throughout the day," said Camodeca.
The intense training that comes with this sport involves the use of a large complex in which the athletes can train, and the teams uses multiple locations including Owings Mills High School, Reisterstown Sports Complex, Prince George's Sports Complex, Goucher College, Irvine Nature Center, and the Greenspring campus.
Camodeca has six other coaches helping the team complete their goals. Dave Berdan works with the cross country and distance runners. Camodeca is also helped by graduate assistants Michael Stetson and Emma Robinson, while Ange Shea works with the team's throwers, and Josie Novich, a volunteer coach who works with the team's hurdlers.
The women's roster includes 45 team members this spring, while the men's team includes 42.
Camodeca and his staff are looking to get one step closer to their goals this weekend, March 25, at the Goucher College Track and Field Classic at the college's Towson site.