The Stevenson University's women's lacrosse team has finally hit the half-way point of their 2017 season. With eight games under their belts, the Mustangs have a 3-5 record with strong wins over McDaniel College, Washington College and Vassar College.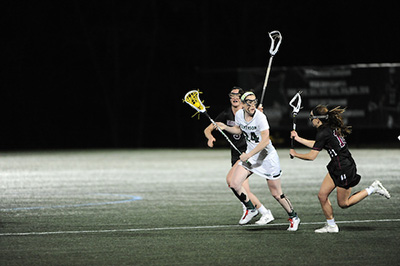 Even though their record is below .500, Stevenson's head women's lacrosse coach, Kathy Railey, believes that the team is moving in the right direction.
"We have had some losses with games that got away from us," she explained, adding, "but the team has also had some great quality wins."
The team recently traveled to Florida, going 1-1 in the two games played over spring break. Senior captain Mackenzie Reese reported that, overall, the trip and competition provided a positive experience for everyone.
"Going down to Florida was a great thing because we not only got better on the field, but it was a good time for our team to bond and develop better chemistry," she said.
One player to keep an eye on as MAC Commonwealth conference play begins to unfold is freshman goalie Mack Ferguson, who recently had an impressive 16 saves against No. 11 Messiah College, as she is improving her vocal leadership on the defensive end of the field.
Railey is hoping that the freshman class can continue to progress and be utilized so that they give depth to the team moving forward.
"We have a great freshman goalie, our freshmen midfielders our playing well and so is our freshmen attack," she said. Railey sees improvement and is pleased with what she's seeing so far.
Depth will be very important for the team because it's a long and demanding season, especially going into second half of the season and conference play. Training and "fresh legs" will help carry the team, said Railey.
With only eight games remaining on the schedule, it will be pivotal for the team to keep their "foot on the gas" and finish through the season on a high note.
The team's next home game is Saturday, April 1, at 1 p.m. versus Arcadia University.  It's also Senior Day for the Mustangs.