Following the announcement of the Student Government Association (SGA) election results on March 13, Stevenson students have a new president and vice president to know.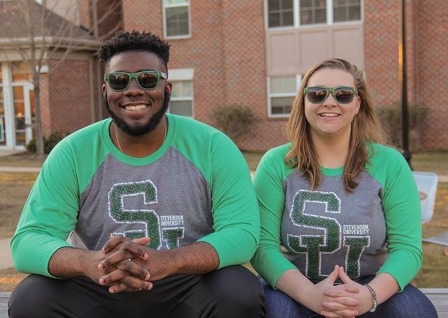 Junior biochemistry major Kourtney Wells and junior biology major Curtis McInnis claimed victory over juniors Brittany Appleby-Rumon and Bryson Barksdale. This election was the first to have an opposing ticket in four years.
Wells is part of a military family claiming numerous residences over her lifetime, but her most recent home is Smithsburg, Md. She is currently finishing her term as the junior class representative and will assume her presidential duties at the end of this semester.
Wells previously served as a senator for the School of the Sciences. Outside of SGA, she is involved in the Tri Beta honor society and the American Chemical Society.
McInnis, the current director of philanthropy, has also served as a senator in the SGA. The Washington, D.C. native keeps busy on campus as a resident assistant in first-year area, as well as a member of Tri Beta and Student Athletic Advisory Committee (SAAC). McInnis is also a member of the men's indoor and outdoor track and field teams. This outdoor season he throws hammer, discus and shot put.
The duo both agreed their favorite thing about Stevenson is the small campus community.
"The small environment makes me feel at home," said Wells. Being able to consistently see familiar faces inside and outside of the classroom is something both students value in their university experience.
"Going to Stevenson, you can definitely see the difference in how people interact with you," said McInnis.
The pair decided to collaborate for the election because they both have a passion for SGA.
"I  always had an inkling in the back of my mind that I wanted to run for president, but didn't have a VP in mind," said Wells. McInnis initially wanted to be president, but realized that he needed to take a step back to identify who would be best for the job.
"I approached Kourtney and said that we worked well together," McInnis said. "She was a little iffy about it, but after we sat down and talked, I knew this was my running mate."
Both are excited to combine their passions and ideas to make the SGA a stronger organization. With the newly appointed university president, Dr. Elliot Hirshman, starting his term in the July, Wells and McInnis recognize and welcome this opportunity.
"I think we are both really excited about creating a sense of engagement between the students and the university," said McInnis, who identified a disconnect between the student body and the university. The ticket recognized their ability to fix this gap and improve relations on campus.
"Without us [students] there is no Stevenson, so we want to be able to help administration by providing them with student input," McInnis said.
Wells and McInnis will serve as president and vice president for the 2017-2018 academic year. Elections for next term will take place in March 2018.