From business communication and human services majors, to those in the psychology and nursing fields, students with a passion for fashion can develop their creativity and networking skills by joining the Fashion Apparel & Design (F.A.D.) student body group on campus.
F.A.D. is a club for students who want to be involved in fashion-related activities and gain knowledge of the fashion industry. "It is a way for students to network with professionals as well as other students of similar interests and enjoy participating in fashion related activities," said Dr. Holly Lentz-Schiller, advisor of F.A.D.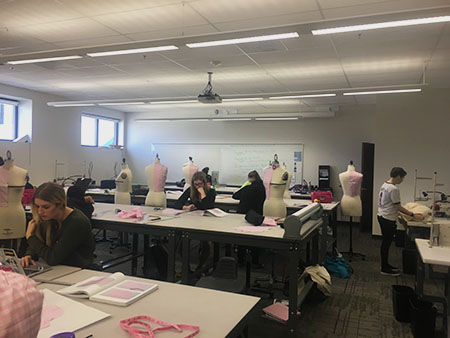 Sammy Lengquist, co-president of the club, claims that getting involved in F.A.D. could open doors to potential careers. "Being a part of F.A.D. will not only look great on a resume," said Lengquist, "but it is great experience for those who want to break into the industry."
Employment of fashion designers is projected to grow three percent from 2014 to 2024, according to the government's Occupational Outlook Handbook, with New York and California being the centers for the most lucrative fashion careers.
Members of the club have their hands full with various projects and events. "We are working alongside the fashion design program with their upcoming fashion show by doing back of the house jobs," said Lengquist, "much like a fashion show producer."
F.A.D. is also partnering with ENACTUS to host another Trunk Show with the Success Closet on Thursday, April 6, from 3:30 p.m.-6 p.m. in Wooded Way.
As the club continues to grow, F.A.D. believes the group is continuing to make a positive impact on the university's campus and student body.
"As a member and co-president of F.A.D., we strive to continue building a happy and open community for our on campus fashionistas," said Lengquist, "especially since the fashion world has a bad reputation for elitism and snobbery."
Members of the F.A.D. club welcome anyone who is interested in the fashion industry, either on the creative or business side.
Meetings are held at 6:30 p.m., twice a month on Thursdays. Students can contact Lentz-Schiller or any E-board member for more information about upcoming activities.