Stevenson University's men's lacrosse team has won seven games this season, including wins over Gettysburg College, Ohio Wesleyan University, Lynchburg College, Lebanon Valley College, Arcadia University, Lycoming College and Hood College. The Mustangs are entering a run of conference games and are looking forward to winning the Middle Atlantic Commonwealth Conference (MAC).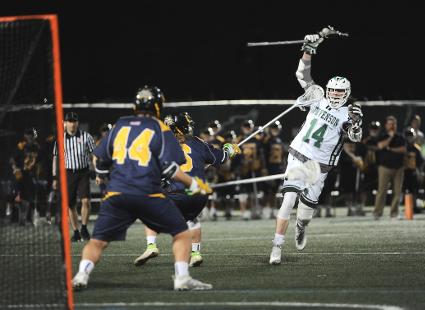 The Mustangs are currently in first place in the MAC conference, with Messiah and Widener trailing. They are currently ranked No. 12 nationally in the latest United States Intercollegiate Lacrosse Association (USILA) Division III coaches poll.
Head coach Paul Cantabene is pleased with his team's recent play. "We have a strong team, and all the conference games are a different challenge, but we have had a lot of success and hopefully that will continue."
Senior captain Dominic DeFazio said, "With the conference we're very confident in our abilities to keep doing well in these games, but we know that we can't take any days off because all these teams play hard, and we need to take them one game at a time and not get ahead of ourselves."
Cantabene knows that the team can't help looking forward to the NCAA tournament in May. "We have a good résumé for that," he said, "and we continue to be strong. We still have a month to go before that even kicks off, but we are very excited for the opportunity."
On March 17, the Mustangs defeated Lynchburg College 12-9 in the first night of the Mustang Classic. Senior Kyle D'Onofrio scored four goals in the win.
The team had a two-game losing streak against York College of Pennsylvania (11-8 on March 18), and Tufts University on March 21 (16-13).
A March 28 win against Lebanon Valley College saw senior midfielder Wade Korvin scoring four goals, combined with sophomore JT Thelen, who also had three goals and three assists,  to lead the team to a 14-2 win.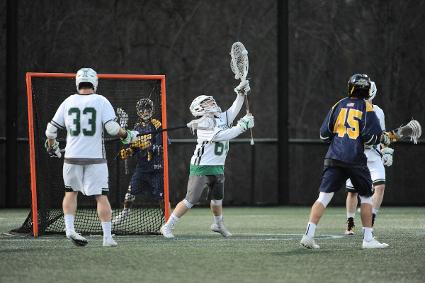 Playing against against Arcadia University on April 1,  Korvin had eight goals and caused three turnovers, which led to the 22-2 win. His eight goals were the most  scored by a Mustang in a game since March 23, 2013.
Two back-to-back conference victories on April 4 (Lycoming College) and April 5 (Hood College) gave the Mustangs impetus to plough through rest of  conference play.  Against Lycoming, the Mustangs took a 15-5 lead at the half and cruised to a 22-8 win. The Mustangs led the way in ground balls and faceoffs, as junior Brandon Watson had five goals to lead the way for Stevenson's 10 scorers. Senior goalie Ross Dinan had 6 saves in his 45 minutes in the cage.
Against the Hood Blazers, the Mustangs grabbed a 22-6 victory as Thelen had five goals and three assists on the night. Nine different Mustangs scored in the win. Once again, Stevenson led in ground balls, faceoffs won, and shots on goal. The 15-2 lead at the half allowed the Mustangs to play variety of midfielders and attackmen.
Stevenson will play at Widener University on Saturday, April 8 in a conference game. The Mustangs' next home game is Tuesday, April 18 at 7 p.m.