In only their second season, the Stevenson University women's beach volleyball team has made groundbreaking strides, setting a new standard for NCAA Division III athletics. Returning from Florida, where the team finished fifth in a highly competitive tournament, the Mustangs were ready to win out the rest of their season.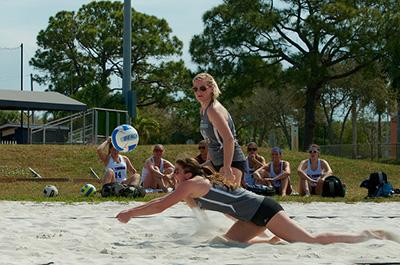 The fifth-place finish at the Rox Small College National Championships that was part of the Fiesta on Siesta Key that included 10 teams from NCAA Division II and III, and NAIA schools.
On April 8, the Mustangs trounced San Diego College 5-0 in the opening round at Siesta Key, and then were defeated 4-1 in their second game to Eckerd College (Fl.). Stevenson finished off the day with a 3-2 win against Warner College (Fl.).
The next day, Stevenson defeated Huntingdon College (Ala.) 4-1, qualifying for the Championship Gold bracket, where the Mustangs were seeded fourth.  A 3-2 loss to Missouri Baptist University gave Stevenson a fifth-place finish.
The Mustangs will wrap up season two of beach volleyball on the weekend of April 22-23 when it hosts the second annual Stevenson Invitational Quad Match.  The Mustangs will welcome Principia College (Ill.) as well as Morgan State University and Towson University.
Head coach David Trumbo is thrilled with the success of his team.
"Being such a new program, we're facing emergent territory. Women's sand volleyball is a brand new NCAA sport. There are only three Division III teams in the country that have sand volleyball, and we're proud not only to be one of them, but to have been the first."
Senior Kristen Brooks is thankful for the opportunity she has been presented with to play on the women's team.
"We are constantly traveling. Florida, Alabama, North Carolina and Texas are a few of the places I have been able to see thanks to being on the team. Home games are great but traveling with your teammates is such a bonding activity, and I think we owe a lot of our success to it. Your biggest supporters are your teammates. We're all so close and it definitely affects our game in a positive way."
The team is currently 11-10 overall this second season. Playing without membership in a conference, since the sport at the Division III level is so new, the Mustangs emulate the top Division I beach volleyball schools, USC, Florida State, UCLA, Pepperdine and Hawaii, all powerhouses with longstanding traditions in the sport. Sand volleyball is the fastest-growing NCAA sport with over 50 schools sponsoring it as of January 2015, according to the NCAA.