Stevenson's women's beach volleyball ended its second season 13-10 following a victorious weekend, a huge improvement over the team's 6-10 mark during its inaugural season just a year ago.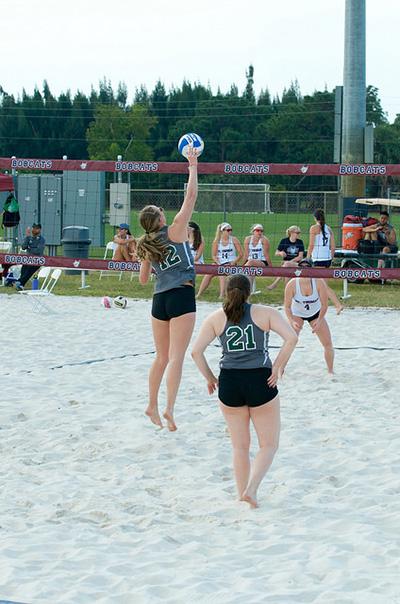 Senior Kristen Brooks said, "The final weeks have been exciting, full of sunburn, and a little bittersweet. We've been working really hard to finish strong in the final stretch."
The Mustangs hosted the second annual season-ending Stevenson Invitational Quad Match April 22-23. The team welcomed Principia College (Ill.) as well as club programs from Morgan State University and Towson University. Stevenson, the nation's first NCAA Division III women's beach volleyball program, carried an 11-10 record into the weekend.
On day one of the Stevenson Invitational, the Mustangs swept Principia 5-0, but fell in a close game to Towson University 3-2. The Mustangs closed out their season on Sunday with two dominant victories against Morgan State University and Principia, both ending 5-0.
Head coach David Trumbo said that his team has developed more confidence and leadership skills than ever, as they're learning to think like a coach out on the sand.
Trumbo said, "The girls love beach volleyball even more. With two years of experience now, they are much more sure of themselves and have developed a mental toughness in their competition against Division I and II teams."
Brooks added, "The difference between our first year as a program and this year is astounding. We've grown so much as a team, and our freshmen have really contributed to making our program successful."
Trumbo said the team's biggest highlight of the season was finishing in fifth place at the Rox Small College National Championships that was part of the Fiesta on Siesta Key. The tournament was filled with tough competition; however, the Mustangs managed to have a great showing, only losing two games of the five played.
With a growing team currently at 16 players, the Mustangs are hoping to travel to new places, compete with new teams, and break new strides for both their team and Division III athletics.