Baseball remains optimistic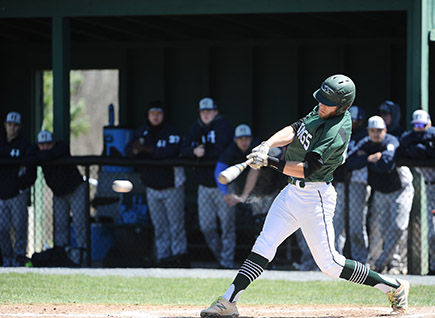 Stevenson's baseball team brought home an 11-10 win on April 19 against Catholic University at Talbot Field, Catholic's home field. Catholic University is in second place in their conference, and they are a tough team to beat. Freshmen Jake Vanko, Alex Kidwiler, and Mark Terrell helped the Mustangs secure the win. Kidwiler had three hits and six runs batted in, while Terrell also had four hits. Head coach Jason Tawney said, "Catholic was a tough non-conference game that we played well enough to win."
On April 23, the Mustangs played Alvernia University in a doubleheader at Sugar Field, Stevenson's home field. Stevenson won both games 4-3 and 8-7 respectively.
The first game was tied at 0-0 until the top of the third inning when Alvernia scored a run, taking the lead. Stevenson struck back in the bottom of the third inning with two runs by Jake Hall. The game was tied at 2-2 until the bottom of the sixth inning when junior Billy Small scored a run for the Mustangs. Both teams would scored in the seventh inning as well, and the game ended 4-3.
The second game was also a close competition. Alvernia would score twice before the Mustangs responded by scoring three times in the second inning. The game was tied at 7-7 up until the bottom of the sixth inning when Stevenson scored the winning run, bringing home an 8-7 win.
Just one day later on April 24, the Mustangs traveled to Angelica Park to play Alvernia University again, this time at their home field. Alvernia won the final game of the series 6-1. Alvernia took an early lead, scoring two runs in the first inning and adding another two in the third, and never looked back. They went on to score in both the fourth and seventh inning as well before Stevenson's Jake Hall scored a run for the Mustangs in the top of the ninth inning.
Tawney remains optimistic about making it to the MAC tournament, though, if not the ECAC tournament. He explained that, because the team is young, there have been a lot of ups and downs this season. There are a lot of freshmen and sophomores on the roster, and only five seniors. That puts a lot of pressure on the younger players to contribute to the team.
Tawney said, "Right now we are 17-19 with four more games. We need three more wins and some help, but we can be a dangerous team. We have power and speed, we just need to get ourselves in the dance."
The Mustangs' next game is against Messiah College on April 28 at 3 p.m. at Sugar Field, located near the tennis courts on the Greenspring campus.
Leave a Comment
Donate to Stevenson Villager
Your donation will support the student journalists of Stevenson University. Your contribution will allow us to purchase equipment and cover our annual website hosting costs.