The shot rang off the post –"ping!"– and into the back of the net. It was at that moment that the college hockey careers of Stevenson University 's inaugural men's ice hockey team came to an end in sudden death. Hockey has been their passion ever since they were young children, and the ending of this game represented an ending to a lifestyle. A lifestyle that lived far longer than the four years of college hockey.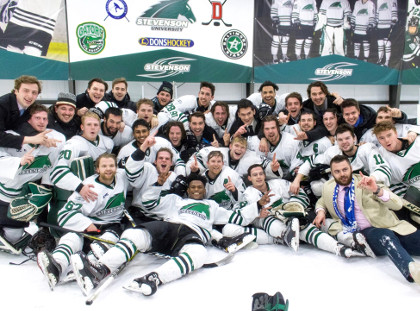 In the blink of an eye, it was all over. Tears fell down the face of the young men who'd come to the realization that they had played the last game of the sport that had become their passion. Corporate jobs, the military, and the "real world" is up next for many of them. Playing hockey for much of the senior class wasn't just something they did, but it was a lifestyle they lived. From high school hockey, to prep school and junior hockey, and onto to college, Stevenson's seniors have taken similar paths that many college hockey players take in their careers, but what makes hockey so special is that there may be certain paths to college, but everyone's journey is unique.
When those seniors were incoming freshman, they were a part of the original Stevenson recruiting class of 40 players. Of those 40 players, 13 lasted until the overtime loss to Wilkes University that ended their senior season. This senior class has created an abundance of memories over its four years that will forever be unlike any recruiting class after them. They are the foundation of what Stevenson hopes to be a D-III hockey powerhouse in the near future. These seniors have made great accomplishments in their four years. They have been ranked as a top 10 team in D-III hockey, they won the first MAC Men's Ice Hockey Championship, and they have finished a season in the top two of the UCHC regular season standings. There's not much that this senior class hasn't done. A trip to Europe with games against professional teams in France and Switzerland is a lasting memory that this class will take with them for the rest of their lives.
As the Mustang team bus made its way back to Owings Mills from Wilkes Barre, PA, you could hear the seniors reliving their favorite moments from their careers. The crying and hugging in the locker room after the game turned to laughing and joking once the team boarded the bus. Each senior has taken hundreds of bus rides to and from games throughout their career, but this would be the last one as a member of the Mustangs. What makes hockey teams so close knit is the amount of time they spend together. Teams are together every day for months at a time during the course of the season, and when students get to spend their winter break at home with family, hockey teams are often each other's family during that time. Team meetings, practicing, and team meals just about every day during those breaks creates a brotherhood that compels teammates to compete and sacrifice for one another.
Travel is a part of the hockey lifestyle. Staying in hotel rooms and taking long bus rides is nothing new to hockey players. The difference is that in college there comes the responsibility of being a student-athlete. Going back to school after living the junior hockey lifestyle can be challenging. Deadlines, studying, and daily homework can be a tough transition when out of the classroom for a couple years, but that is all a part of being a college athlete; Specifically, a D-III hockey player. For someone to participate in division III athletics it means that they genuinely love their sport. NCAA D-III does not give out scholarships or financial aid based on athletic merit so student-athletes must consider schools that fit both financially and athletically, as well as academically. The majority of D-III student-athletes will be professionals in fields other than sports, so this time in college is essentially the last four years of competition.
Seeing Stevenson's men's hockey team frozen in disbelief that their season has just ended clarifies the magnitude of how much this sport and lifestyle mean to people. The seniors have dedicated their youth and young adulthood to being hockey players, and the thousand-mile stares on the faces of the senior mustangs show the realization that a major chapter in their lives has come to an end. These seniors will be living a completely different lifestyle moving forward; no more team lifts, or preseason practices that put you on the edge of exhaustion, or video sessions where you hope to not be called out in front of the team for a mistake that you made. Instead, the feeling of being a hockey player turns to nostalgia. The years of dedication to the sport become memories that will be cherished forever.
Being with these seniors nearly every day for three years and seeing how careers can come to an end with a flick of the wrist has made me appreciate the opportunity that hockey players have been afforded. Hockey gives young men and women the ability to forge friendships that will last forever and create memories that they will not soon forget. Hockey is a small world and while many players take similar routes to college, no journey is one in the same. It is truly a lifestyle being a hockey player and an old hockey saying goes: "All roads lead to beer league", and for the seniors of the Stevenson University Mustangs, that time is now.