The 15th annual Shapiro/Rouse Lecture packed the Claire Moore Room in Garrison Hall on Nov. 2, forcing some students to stand against the back wall to hear communication professional Julie Allen's message of perseverance and hard work. 
"This is the greatest number of students present that we have seen in years for the lecture," President Elliot Hirshman said in his opening remarks. "I am very happy with the crowd we have present today." 
For her part, Allen kept the crowd rapt during both her 40-minute presentation and the subsequent 20-minute question-and-answer session. Allen is senior vice president of digital and brand creative at the Howard Hughes Corporation and is a major part of a team that had just finished work on a major renovation of Pier 17 in the South Street Seaport in New York City, her home.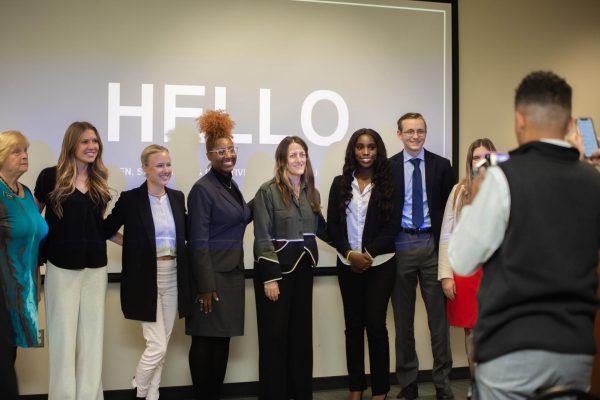 The Shapiro/Rouse lecture series annually brings a prominent business leader to Stevenson. The event takes place thanks to the generosity of Ronald and Kathy Shapiro, and with the support of former Communication Department Chair Chip Rouse. All three attended, as did the communication faculty and staff. School of Design, Arts and Communication Dean Amanda Hostalka helped Hirshman welcome Allen to Stevenson, and current Communication Department Chair Dr. Lee Krahenbuhl spoke at the event's closing.
Junior communication major Grace-Frances Afful served as the emcee and introduced Allen. 
Allen opened by summing up her career, especially her time working for the BBC network, MTV, and Viacom. Those experiences allowed her to strengthen skills in corporate rebranding, while maintaining a sense of creativity and passion in her work. All have led her to her current role at the Howard Hughes Corporation, a prominent name in the real estate development world. 
"Any free time I had, or any vacation time I had, I was there, putting myself forward," Allen told the audience.  
Students were impressed by Allen's determination and willpower and drive to determine her own destiny. 
 "To me, it was about putting yourself out there and seizing the opportunities that arise," said sophomore Erin Wright among the audience's reactions. 
The Pier 17 redevelopment reshaped the South Street Seaport neighborhood in Manhattan into a thriving entertainment and lifestyle district. It includes traditional taverns and restaurants, but it also features a 50,000-square-foot recreational facility, complete with a croquet court and other amenities. The Rooftop, a concert venue, crowns the building and Allen's achievement.  
"I love the opportunity to plan something out, simply starting on paper, and seeing it come to life," Allen said. "That is what is the most rewarding to me in my work." 
In the speaking engagement Allen also presented some learning experiences in working on event planning, a new professional minor at Stevenson led by Communication Professor Dr. Leeanne Bell-McManus. 
The keys to a successful career in event planning, according to Allen? 
Discussing the importance of even the smallest of roles

 

Remembering to be detail oriented in your work, and 

 

Being up-to-date on world and cultural events.

 
"Being culturally aware of what's going on in the world will serve you well," Allen said.   
She compared the creative and conceptual phases of event planning as the gears of a clock responsible for keeping the entire system running smoothly, of "keeping a cool head and dealing with crises as they arrive." 
"Panic — you don't need that energy around when you're trying to pull (something) off," Allen said. 
Allen also emphasized the importance of communication. Seems simple enough, right?. 
"Cold calling, it's just like open dialogue," Allen said after bringing up the many opportunities that she had earned because of networking and reaching out for them herself. 
"Keep building your network because you never know when someone is going to recommend you for an opportunity," Allen said. 
She also noted the importance of trying new professional experiences. 
"With everything new and emerging, there's going to be risk involved," she said. "But try something new. If you don't try, you'll never know." 
Above all, Allen told the crowd to find a job they love. 
"It has been my mission in life to have fun," Allen said. "I think I've succeeded in that."