A lengthy line was already forming outside of Rockland 10 minutes before the annual homecoming Stuff-a-Stang event began. Phrases like "is this the line for Stuff-a-Stang?" whirled through the warm autumn air.  
A long table with all the necessary materials was set up inside Rockland's lobby. Students, excited and eager, had their IDs out ready to be checked off by student activities worker Lauren Martin as the line grew longer and longer, with the much anticipated noon start time nearing.  
Stevenson's Student Activities department hosted their popular Stuff-a-Stang event on Oct. 20, the Friday before homecoming, amid the other themed events on campus during the week.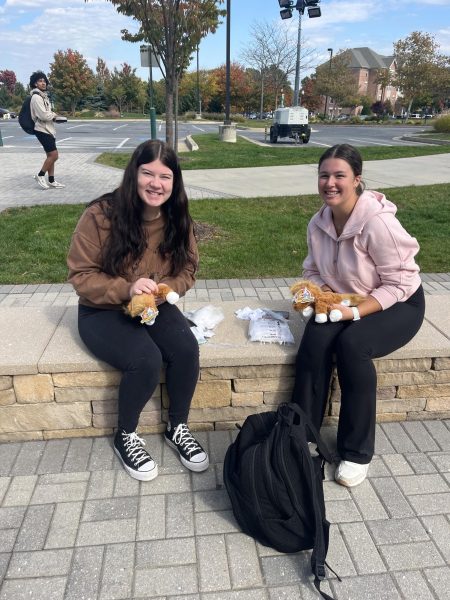 Stuff-a-Stang is a fan favorite event for Stevenson students. The event involves choosing an unstuffed mustang plush, stuffing it, and outfitting it with the unique homecoming shirt sized for the plush.  
First-year nursing student Katie Campbell, originally unfamiliar with the event, said that she never heard of the event, her friends wanted her to come out. 
 "I wanted a stuffed animal," Campbell said.   
The event always sells out quickly and it is first-come, first-served, so it is important that students get in line early to improve their chance of stuffing a mustang. 
A diverse mix of students spanning from all four years and different majors attended the event.  
Sophomore education student Ta'nelle Chestnut had participated in the event during homecoming week in past years.  
"I got in line early because I thought it was going to sell out," Chestnut said from her secured spot in line.  
Junior criminal justice student TaMara Bush was another returner to the event. She wanted to show school spirit and had attended the previous year, which brought her back this homecoming to participate.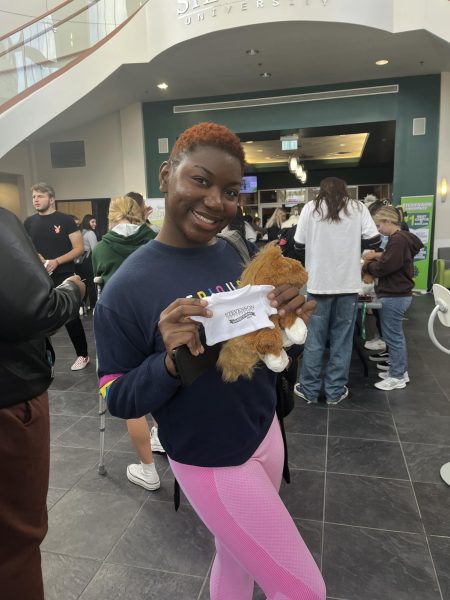 Senior interdisciplinary studies student Nakesha Clarke has always missed the Stuff-a-Stang events, and this year she was excited to finally participate.  
"I am a DIY girlie; I thought it would be cute for a decoration," Clarke said.  
 Seniors Lauren Martin and Lucine Kamara oversaw the event in their roles as student activities workers.  
Kamara said she likes the event because the horse plushies scream "Mustang Pride!" 
There are other Stuff-a-Plush events on campus throughout the year where students can choose from a variety of animals, but Kamara says this one is different because it is personalized to Stevenson. The homecoming shirts, which accompanied the plush horses, also help to fit in with the overarching homecoming theme.  
Students could take advantage of the tables in Rockland's lobby to use as their stuffing station or could choose to stuff their plush elsewhere. A few students opted to take their materials and sit outside enjoying the warm October temperatures while working on the comforting craft.  
Within 20 minutes, this year's Stuff-a-Stang was sold out.  
"Any kind of giveaway is popular," Martin said, "especially one that is comforting like a stuffed animal to get to take back to the dorm, and it's our mascot."