Stevenson students should be paying more attention to their school's theater program. 
We often overlook Stevenson's theater program. However, Stevenson University's theater department is important and valuable to the school culture. The effort and hard work that Stevenson's theater department puts into everything that they do should not go unnoticed.  
Theater is empowering. Participation in theater programs has proven effective at increasing empathy and self-confidence.  
Kyla Johnson is a sophomore theatre and media performance major and has been in multiple Stevenson theater productions. She has always been a very shy person but found enjoyment and growth through theater. 
"Theater helped me branch out… become less shy," Johnson said. She said that theater helped her create a bigger voice for herself. 
Sophomore theater and media performance major Nic Mitchell explained that theater had a similar impact on them.  
"Theater made me way more confident… more friendly and more outspoken," said Mitchell. Theater has helped Mitchell showcase their true self. 
In addition to being beneficial to those involved, theater is also a one-of-a-kind form of storytelling.
Anne Lefter served as director of this semester's theater production of "By the Way, Meet Vera Stark." 
Lefter said that theater is amazing because it is a one-time experience that we share with other people. 
"The liveness and that sense of community is transformative. There's something incredibly powerful about that," said Lefter. "We understand people's experience through theater in a way that you never can through other medium." 
Theater additionally serves an educational purpose.  
Ryan Clark is a professor and program coordinator of theater at Stevenson.  
"Theater can educate, and theater can change people," Clark said. He said that actors and theater have the power to "move people." 
Stevenson's theater department is full of talented and hard-working students that Lefter describes as "wonderful, generous artists." 
"The students feel free and safe to explore and to take risks… they support each other. It's a tremendously positive environment," said Lefter.  
Theater takes an incredible amount of work and effort. We need to do a better job of recognizing and respecting the talented artists and actors who create our theater performances.  
"People [don't] really comprehend the amount of work and the amount of effort and dedication and focus that has to go into making a production," Mitchell said. 
Johnson also feels that theater is too often overlooked.  
"If you really took a chance to take an acting class or at least be in a production… you'll see all the work and time we put into this," Johnson said.   
Mitchell said that students should show up for theater not only for the participants, but to do themselves a service.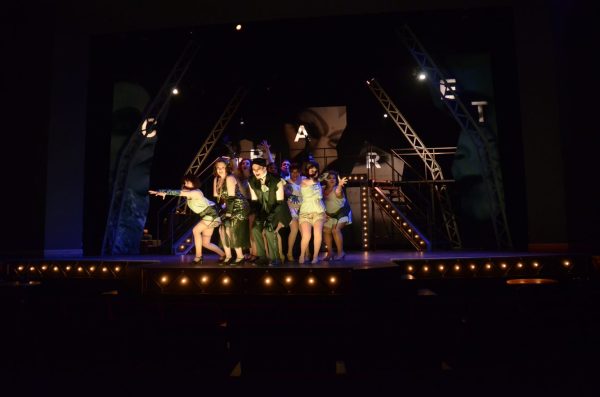 "There is no other art form that can bring something to life as theatrical performance does," they said. "Everyone should experience an art in their lifetime… something as special as theater should definitely be experienced at least once."  
Stevenson students recognize the effort the theater program puts into their performances. The performing arts hold value, and the stories told through theater are like no other.  
Clark said that every student should experience the "power of performance… here at this university."  
Now is the perfect time to start getting involved as Stevenson will begin construction on the 38,000 square foot Berman Family Performing Arts Center in 2024.
"We need theater as a society," Clark said. "Consider taking an acting class… it can really help you with everything from public speaking to storytelling." 
Theater provides a way to express yourself, connect with your peers, tell stories that deserve to be heard, and so much more. 
"It's an exciting time to be in theater here at Stevenson," Clark said. "Support the arts!" 
For more information about Stevenson's theater program, follow their Instagram, @tmp_stevenson. Also get ready for Stevenson's production of Anton Chekhov's "The Seagull," coming this spring!