"Daddy's Home," a family-oriented movie, was so enjoyable that audience members wanted to see the cast get together a second time. Although the much-anticipated sequel, "Daddy's Home 2," may have been commercialized as another family-friendly, holiday-themed movie, parents might find that it is inappropriate for children.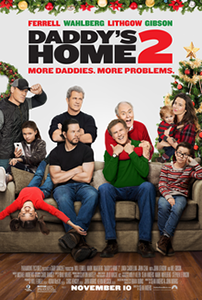 Father and stepfather Mark Wahlberg, known as Dusty in the film, and Will Ferrell, known as Brad, join forces to make Christmas time perfect for the children. Their newfound partnership gets put to the test when Dusty's old-school, macho father (Mel Gibson) and Brad's affable father (John Lithgow) arrive to turn the holiday upside down. After a sudden change in plans, the four men decide to take the children to a luxury resort for a fun-filled getaway that turns into a hilariously hectic adventure.
However, many parents may not want their children to see the movie because the young actors take part in content that impressionable children shouldn't be exposed to. For example, the underage characters get drunk, shoot wild turkeys and talk back to their elders. When two young girls get drunk on alcoholic eggnog, their use of profanity and unruly behavior might infuriate parents who view the language as inappropriate.
Shooting wild turkeys is another example of poor role-modeling. In today's culture, showing young children with guns is not just distasteful, but also downright offensive. All of these negative behaviors are produced as comedy and, in some ways they work, but the commercials on television make this movie appear to be a family movie for all to enjoy.
The movie has a lot of sexual content and inappropriate messages about sex and gender roles. Mel Gibson's character is presented as a "stud" who effortlessly attracts women almost half, or even a third of his age; they seem willing to have no-strings-attached sex with him.
For all these reasons, I might recommend this movie to an older age group, since the content is explicit and the messages are adult in nature. The movie may teach valuable lessons that any family can relate to regarding conflicts within a blended family. As the conflicts escalate, unforgettable memories highlight the family trip, and in the end the true meaning of family is clear.  I enjoyed this movie for its hysterical humor and family interactions that took place, however it's not a good choice for the little ones.