Junior fashion design majors will showcase their original garments that highlight the reduction of waste produced by the fashion industry. From Nov. 30 to Dec. 15, the fashion design program will display Sustainability in Fashion, Empathy for the Environment in the Kevin J. Manning Academic Center Gallery on the Owings Mills North campus.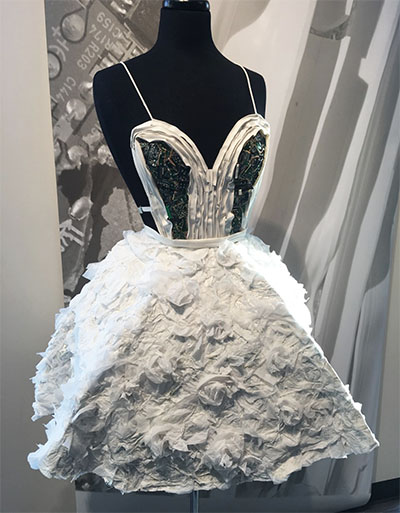 Each student created two garments embodying the theme of reusing materials. One of the two is an experimental garment made from materials that would not normally be reused, and the other is an evening wear garment crafted with the same criteria. Exhibition boards, composed by fashion design and fashion merchandising students, that  explain the inspiration behind each design will accompany each garment.
The project required the students to educate themselves on the environmental impact of fashion materials. With that knowledge, students were able to translate their ideas into garments that promote the use of reduced, reused and recycled materials.
Junior designer Lacey DeJordy said she wants viewers to "be conscious of where materials come from and how much waste they produce." She said that the project allowed her to form a correlation between artistic techniques and fashion design, especially when challenged with using non-typical fashion materials. One of her garments is made entirely out of old family photo negatives, and her other garment features a long, draped skirt made of velvet.
Fast fashion, by its very name, is one of the most rapidly growing global industries, according to an article from National Public Radio. Though the world purchases more clothing now than ever before in history, there is no established way to prevent fashion waste from being produced. Clothes with longer lifespans, however, would allow people to get more wear out of their clothes while reducing their carbon footprint.
Additionally, trading unwanted items with friends and family is not only a chance to have a good time, but also an opportunity to save money and prevent unnecessary waste. Selling clothes online or to a consignment shop allows individuals to reach a wider audience of potential buyers. Donating garments is another noteworthy option, since there are always less fortunate people in need of new clothes.
Starting on Thursday, Nov. 30, the students' designs will be on display on the second floor of the Manning Academic Center south. The fashion design program welcomes all to attend the reception from 6-8 p.m. that evening.