The Stevenson women's ice hockey team faces off against the Buffalo State Bengals on Dec. 9 at 7 p.m. as the team attempts to secure a conference play-off position for the third consecutive year.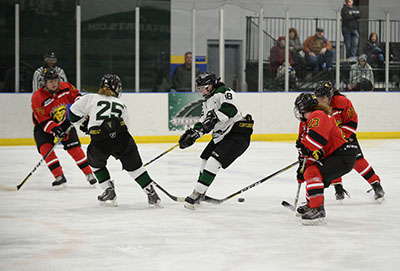 With the bitter taste of defeat still on the players' palates from last year's conference playoff first round knockout by the Endicott College Gulls, the team is ready to put the beginning of the season behind them and gear up for what's next.
The Mustangs won their first game this season on Nov. 26 against Wesleyan University after an unfortunate six-game losing streak. Senior captain Chelsea Blackburn sums up the team's losses: this year is different from last season's and it has taken the players some time to adjust. Since their first win, the team has triumphed over the King's College Monarchs twice in back-to-back games to account for their first in-conference wins. The team faces some tough competition going forward, but Blackburn has all the faith in her team that they will return to the Middle Atlantic Conference (MAC) playoffs.
This season, the Mustangs have welcomed seven new freshmen to the team and are preparing to say goodbye to their seven seniors who have all been there to witness the program grow. This year's class is only the team's third graduating group since the program's inaugural season in 2012 and prove to be a prominent presence on the ice as Blackburn just earned her seventh career hat-trick during the team's win against King's College.
Even though the seniors are leaving this year, head coach Tracy Johnson has full confidence in her sophomore and junior classes that they will step up and continue the legacy with which their older teammates are leaving them.
Even with the team's older players still around for one last lap around the ice, the rest of this 2017-18 season will still take a lot of hard work for victories. The team has beaten only one of the three teams in their conference that stands in the way of making playoffs this year.
The Mustangs still have to face off against the Lebanon Valley College Flying Dutchmen and the Manhattanville College Valiants to secure their spot in the playoffs. Fortunately, last season's sweep of both teams are giving the team and their coaches some newly found confidence that they've been missing so far this season.
The women's ice hockey team has started this 2017-18 season with an unfortunate rough patch but with the help of their new freshman and seasoned seniors, they can turn their luck around. Johnson said she has no doubt that this season's team will continue to work hard and meet their goal of returning to the MAC conference play offs for the third year in a row.