Resident assistants encourage students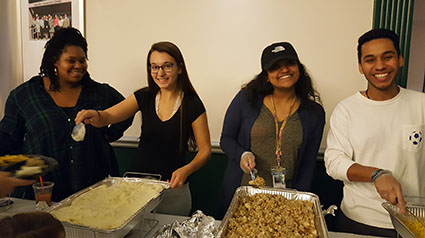 Living on a college campus can be stressful, but residence assistants (or RAs) are there to help motivate, mediate, and keep their residents safe. On the Stevenson University Owings Mills campus, there are a total of 64 RAs. The primary responsibility of an RA is to build community within their floor/residential hall.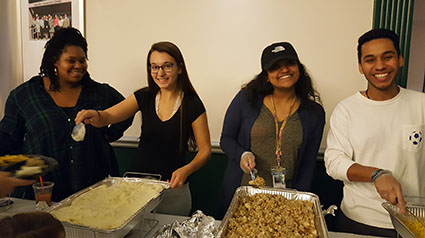 According to Bonnie McGahee, assistant director of Residence Life, "RAs are also responsible for creating community building opportunities like events in the building or area, and smaller events for just the floor." She added, "the RA is responsible for crisis management— what we mean by this is serving on duty, conducting roommate mediations and writing incident reports."
The application process to become an RA is extensive. It requires attending information sessions that were held back in November. If a student was not able to make any of the information sessions, they can schedule an appointment with McGahee to go over all of the necessary information.
After the information sessions, students have to fill out an online application that requires them to answer two essay questions, upload their resume, and attach a letter of recommendation. All of these materials are due on Dec. 8.
After Residence Life reviews the online applications, the office sends out requests for interviews. These interviews will be conducted after winter break during the weekend of Jan. 20 and Jan. 27.
Once accepted as an RA, students undergo two major training sessions and ongoing training. The first training session is two weeks long and starts in August. During training, RAs learn how to plan events, serve on duty, lead team builders, and build relationships with other RAs. The second major training session is in January, which is more of a refresher.
The time commitment for this position varies from RA to RA. Matt Patti, a junior film and moving image major, has been an RA for two academic years and said that being an RA takes up much of his time. According to Patti, the RAs have to do Mustang Meet-ups (a way for RAs to get to know their residents better), create a bulletin board each month, and go on duty about one or two times a week.
Patti said, "The free room and board is certainly great, but the most surprising benefit of being an RA is all the people you'll meet." He added, "ResLife certainly is its own community and getting to know the other RAs, as well as resident directors (or RDs), directors of housing, etc. was really great."
Donate to Stevenson Villager
Your donation will support the student journalists of Stevenson University. Your contribution will allow us to purchase equipment and cover our annual website hosting costs.