Women's ice hockey gearing up for playoffs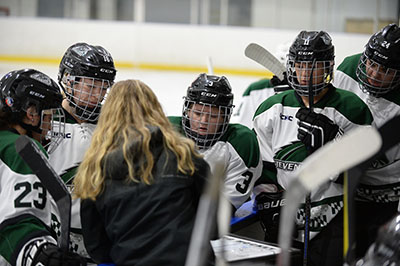 Coming off of a victorious weekend, the Stevenson University women's ice hockey team is finding their stride at the perfect time.  With just four games left in regular season play, the team is currently riding a seven-game unbeaten streak.  On Feb. 2 and 3, the team defeated Lebanon Valley College on back-to-back nights by scores of 10-1 and 6-0.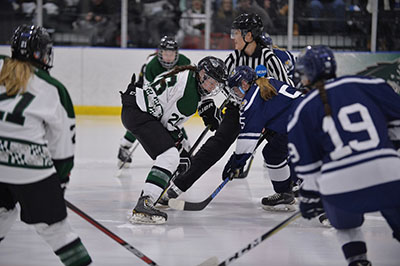 The two victories over the weekend got the Mustangs back into winning form after they tied a good Utica College team 3-3 on Jan. 27.
Senior forward Savannah Sommers said, "Everyone is on the same page and is working towards the same goal. We want to put ourselves in the best playoff position, and our past play shows that."
Head coach Tracy Johnson added, "Our team has worked very hard to improve and I am extremely proud of them for continuing to put in the time and energy to play better and better every day."
The first contest against Lebanon Valley was held at the Reisterstown Sportsplex for the annual White Out for Cancer-awareness game on Feb. 2. The Mustangs were led by senior forwards Monica Pozuc and Chelsea Blackburn.  Pozuc led the team in points, scoring three goals for a hat trick while also assisting on four Mustang goals. Blackburn was also a major factor in the scoring as she tallied six points, scoring one goal while assisting on five.
The two combined for 13 points, which is the most combined points by two players in a single game this season. This was good enough for a 10-1 victory, and the offense is firing on all cylinders moving closer to postseason play.
"It is definitely a positive to gain some confidence with putting the puck in the net, which is something we hope to build off of going into the final stretch of games and playoffs," said Johnson.
The next day, the Mustangs traveled to Lebanon Valley to complete the second leg of their home and home series versus the Dutchmen.  This time, it was the freshmen who made an impact on the game. First-year goalie Annika Carlander was a star in net for the Mustangs, earning her second career shutout.
Carlander made eight saves, keeping Lebanon Valley scoreless in the contest. On the offensive side, freshman Angelica Saluzzo scored her first career goal. The Mustangs outshot Lebanon Valley by a massive margin of 78-8. Chelsea Blackburn led the Mustangs with two goals as they cruised to a 6-0 victory.
On Feb. 4, Pozuc was named the MAC Offensive Player of the Week for the first time. Her seven-point performance on Feb. 2 tied a program record. It was the first time in her career she scored a hat trick, as well as the first time in school history a player scored three power-play goals in a single game.
With just four regular season games left, the Mustangs hope to finish strong.
"The last four games are crucial when it comes to standings within our conference, so you can count on our team to do their best to put us in a favorable position," said Johnson.
"The two games this weekend are huge games; putting pucks on the net and playing good special teams is something we are going to focus on," Sommers said.
The Mustangs return to action this weekend as they take on Neumann in a home and home series. On Friday, Feb. 9, the Mustangs host Neumann for Senior Day. The following day the team will travel to Neumann for a 4 p.m. face-off.
Donate to Stevenson Villager
Your donation will support the student journalists of Stevenson University. Your contribution will allow us to purchase equipment and cover our annual website hosting costs.