The women's lacrosse team has their eyes set on the Middle Atlantic Conference championship this year as they are ready to embark on their 2018 campaign.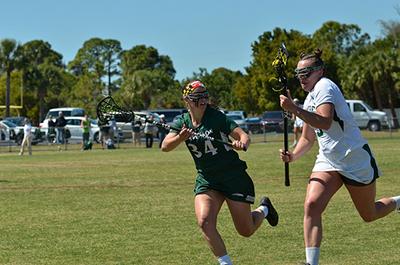 Last year, the Mustangs fell just short of their goal in a loss to Messiah College in the conference championship game. This year, they were picked to finish second again in the MAC Commonwealth preseason poll behind Messiah. This is something that head coach Kathy Railey is determined to change.
Railey, who is among the NCAA's active winningest coaches in Division III, said, "We are totally focused on winning the MAC Commonwealth championship. We all share this common goal and work hard daily to achieve it."
Railey added that she believes her team, more specifically her offense, must be capable of scoring 15 goals against a top-quality defense to achieve this goal.
The team's offense is helped largely by the addition of Olivia Monteiro to the coaching staff. Monteiro was last year's MAC Commonwealth offensive player of the year, and Railey praises her knowledge and approachability as great assets to this year's team.
The roster is made up of 26 players, 18 of whom are either freshman or sophomores. Railey believes that the youth of her team bodes very well for their future success.
One of the returnees, sophomore Morgan Bateman, said that her experiences last year, even while injured, have helped her better prepare for her second year. Bateman, a defenseman, also believes that the team is fully capable of winning the MAC Commonwealth Conference, and stresses that the team's overall fitness will be pivotal to their success in achieving their goals.
Railey is optimistic for the future as well, stating that the leadership she already has in place, including team captains Mallory Davila, Gabby DiGello, and Jamie Bittner, will "leave a legacy of hard work and determination for years to come." Bittner is the only captain who is a senior.
In practices, Railey employs a week-to-week building-block approach. "My focus is to slowly get better in every aspect of the game so that by playoff time, we are ready to win the conference," she said.
Lastly, in addition to winning the conference championship, Railey believes her team can achieve a top-20 ranking in the country, something that has been common for the program since 2010.
The team will open their season on Saturday, Feb. 17 at 1 p.m. at Mustang Stadium against the visiting Salisbury Seagulls.