New York has always been a hotbed for fashion, making it the perfect place to showcase the latest designs, especially during New York Fashion Week. The annual show was held at Mercedes-Benz Manhattan this season. Attendees of the one-week event included media press, retailers, independent fashion designers, stylists, well-known fashion models, and Stevenson students.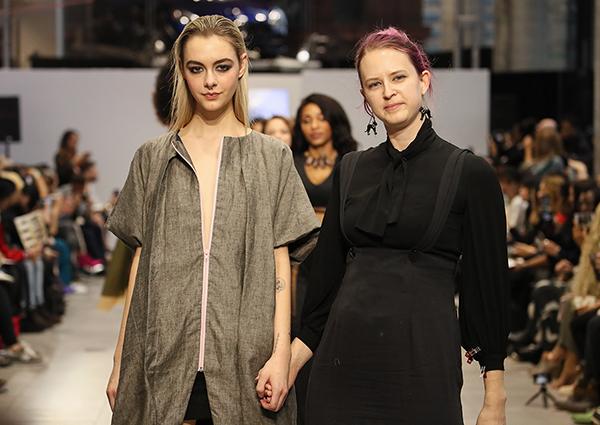 Stevenson University fashion design and merchandising majors participate in fashion week each year. They work with Nolcha, an independent fashion show producer, who brings together different designers for one fashion show. This year's theme for Stevenson students' work was inspired by musical artist Bjork.
Nine fashion design and merchandising students participated in this year's Fashion Week events. The students designed their pieces based on how Bjork's sights and sounds related to them. Illustrations were submitted, pieces were constructed, and the best looks were chosen. The pieces were judged to meet fashion industry standards. Once the garments were selected, students traveled to New York a few days before the show to attend model fittings and make any last-minute adjustments.
Forest Bell, interim chair and assistant professor of fashion design and merchandising, said, "All of the students grew and represented themselves in their own way." Students gained a great amount of experience by working backstage with professional designers, models, make-up artists, and hair stylists. During the fashion show, students were not able to see their work on the runway. However, they were able to walk out with their model at the end of the show. Students were also included in the media hour where they had the chance to meet members of the press and fashion buyers.
Stevenson fashion design students' work was featured on the Mercedes-Benz home Facebook page and in Richard Magazine.
To see more of the fashion design and merchandising students' pieces, the program's annual fashion show will be held on May 5, 2018 at the Baltimore War Memorial.
"It will be an amazing show, with a huge lineup of student work," said Bell.