Golf teams head south as season opens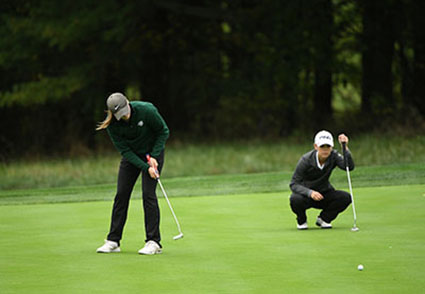 Stevenson University's men's and women's golf teams started their 2018 season in March to pursue their dreams of winning a championship.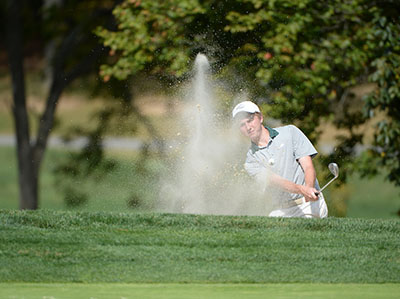 Coach Chris Ramer is ready for the season to begin.
"The players have been finding their own time to warm up and hit golf balls, whether it's on the driving range, in the gym, or out on the course to prepare themselves for their upcoming events," said Ramer.
The women's first event was March 5-6 in Hardeeville, S.C., for the Pfeiffer Invitational at the Hilton Head Lakes Golf Course. The Mustangs finished in sixth place out of the 11 competing teams, and on the first day of the tournament. Sophomore Julia Kline had the team's low score with an 8 over par 80.  Senior Morgan Wirtz finished the tournament with the team's best score, shooting an 85 and an 82, tied for 24th place.
Stevenson's home golf course is Piney Branch Golf Club, a private course in Upperco, Md., at which the Mustangs will host a tournament of their own midway through the season.
The women's team is a young group, with four freshmen, three sophomores, and only one senior. The men's roster has no freshmen, five sophomores, three juniors, two seniors, and a graduate student.
Recruiting these golfers is not an easy task for Ramer.
"I go out and follow them around the course as I watch them play. I get e-mails, player profiles, and watch video on players. If I like what I see, I will then have that player come and visit the school," said Ramer.
Tyler Slusarczyk, a sophomore on the men's roster, is excited for the season. "This off-season consisted of getting back to my roots and spending time on the course, enjoying the game of golf. This allows me to play well with a carefree mind and fine tune some of the weaker parts of my game," said Slusarczyk.
The men's team will travel to South Carolina, North Carolina, and Pennsylvania. On the other hand, the women's team will head to Ohio, Pennsylvania, and Virginia. A March highlight for the men's team is the 47th Camp Lejeune Intercollegiate competition at Paradise Point Golf Course in Camp Lejuene, N.C. The women will spend some time playing at the Shenandoah Valley Golf Club in Front Royal, Va.
This season is a big one for Ramer and both of his teams. The men's team has made nationals three out of the last four years. The women may have a young roster, but they are ready to compete at a higher level.
Donate to Stevenson Villager
Your donation will support the student journalists of Stevenson University. Your contribution will allow us to purchase equipment and cover our annual website hosting costs.