Landon Shorts long on talent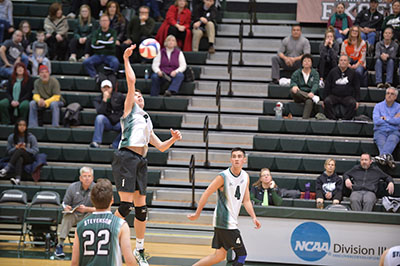 In his three seasons as a member of the Stevenson University men's volleyball team, junior captain Landon Shorts has helped lead the Mustangs while setting school records and earning numerous conference honors.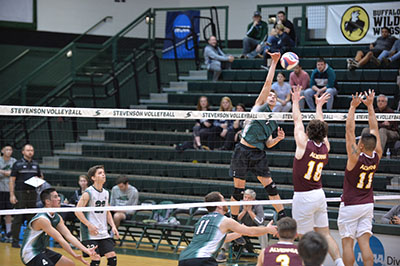 This season alone, Shorts has earned the Middle Atlantic Conference (MAC) player of the week five weeks in a row, helped push the Mustangs to their undefeated record so far in their conference (6-0), and assisted in the men's wins over nationally ranked teams.
According to gomacsports.com, Shorts earned MAC player of the week for five consecutive weeks between Feb. 5 and March 5, 2018. Throughout these five weeks, the Mustangs competed in five of the six conference games that they have played this season.
The team has had a very competitive schedule in which they have faced several nationally ranked teams. This has posed a challenge for Stevenson as they faced losses in those games. However, Shorts and the Mustangs were able to keep their composure and beat Marymount University, a team that was ranked third in the nation at that point.
The Mustangs were able to beat Marymount 3-1, and in the final set, Shorts had the game-ending kill. He posted nine kills, five digs, three aces, and a pair of block assists, according to gomustangsports.com.
Shorts also assisted in the Mustangs' five-set win over Juniata College, who was ranked nationally earlier this season. Shorts led the team with 18 kills, 14 digs, and five service aces. Coach Aldis Berzins described Shorts' play in this game as "unstoppable" in a post-game interview on gomustangsports.com.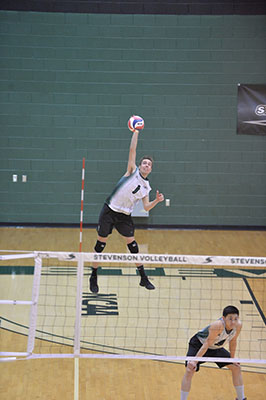 Shorts is not only a quality player for the Mustangs, but he is also a leader onthe young team. Berzins said that he looks to Shorts as a captain to lead and encourage the team, especially the five freshman.
This is the first year for men's volleyball in the MAC, so prior to 2017-18, the Mustangs competed in the Continental Volleyball Conference (CVC) for Shorts' first two years at Stevenson.
In his freshman season, Shorts was named the 2016 ECAC Men's Volleyball Rookie of the Year and 2016 CVC Rookie of the Year, along with leading the team and the conference with 345 kills, according to gomustangsports.com. In that year, he also set the single season program record with 58 service aces, according to gomustangsports.com.
In Shorts' sophomore year, he earned 2017 CVC All-Conference and 2017 ECAC First Team All-Star. He was also named to the CVC All-Academic team.
Shorts said that he has two personal goals for this season. The first is to be named an NCAA All-American, which has been a goal for him since freshman year. His other goal is to break his own record that he set freshman year for the program's single season service aces.
Donate to Stevenson Villager
Your donation will support the student journalists of Stevenson University. Your contribution will allow us to purchase equipment and cover our annual website hosting costs.