Updated on 5/03/18 by Editor-in-Chief Alyssa Dahle:
The Greenspring Review's spring 2018 issue is now live and can be found here. Some of the featured pieces from their latest issue include "Purgatory," a short story by Carrie Simmons; "Fifteen easy ways to heal," a poem by Mone Moore; "Kaleidoscope Eyes," a poem by Shaiyke Jordan; and "Flesh and Blood," an interactive game by Hannah Humphries.
The following are new additions to the 2017-2018 staff:
Andrew Vetsch – assistant technical editor and copy editor 
Cydney Walford – assistant technical editor and copy editor 
Lanett Bagley – assistant technical editor and copy editor 
---
The Greenspring Review is a digital literary, art and media magazine run by the students of  Stevenson University. Working with the student staff are Amanda Licastro, Digital Publishing Advisor; and Meagan Nyland, Editorial Advisor.
Licastro advises on the technical and digital aspects of the magazine, offering design advice and instruction with WordPress, an open source website creation tool. Nyland advises on the editorial side of the magazine, teaching students how to edit a literary magazine, and helping them professionally through the submission selection and marketing processes.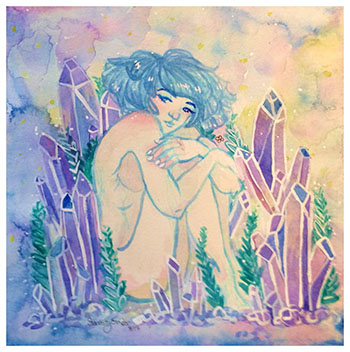 Sophomore Audrey R. Diggs is this year's editor-in-chief. She and the staff make most of the creative decisions and decide what material will be included in the magazine. The Greenspring Review itself publishes a wide range of materials and offers a multimedia platform of creativity. Not only does the magazine take submissions for stories and poems, but also for essays, reviews, film, photography, and art, as well as scripts and screenplays, memoirs, creative and personal essays, song lyrics and speeches.
This semester's deadline submission is April 10, although extensions may be granted by special request. Submissions are to be sent to [email protected].
The magazine also works with the Stevenson Summer Writers' Workshop. This is a summer camp for creative writers in 8th through 12th grades. Nyland is the director of the camp, and Licasto and the editor-in-chief visit to help students publish a small online magazine for themselves, a piece from which is usually honored in the Greenspring Review's fall issue.
Additional staff includes the following:
Andrew G. Boone – Film editor
Danielle D. Brown – Assistant Technical Editor and Copyeditor
Katelyn D. Heidel – Assistant Technical Editor and Copyeditor
Marcus Tucker – English major
Morgan E. LaMonica – Assistant Technical Editor and Copyeditor
Ryan M. Roche – Assistant Technical Editor and Copyeditor
Tiffany A. Ko – Assistant Technical Editor and Copyeditor