24 years. Imagine staying at a job for that long. Imagine seeing a university athletic department grow from a few club sports into a powerhouse in Division III athletics.
Brett Adams, director of athletics at Stevenson University, has seen it all during his 24 years at Stevenson. He has built an athletic department here that includes 27 intercollegiate sports and has seen the teams he's helped create thrive.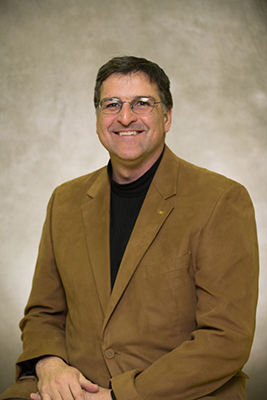 Under Adams' leadership, the women's volleyball team has won two MAC championships and has been to the NCAA tournament. The football program won its first MAC title in 2016. He's seen the men's lacrosse program win a national title in 2012. Other programs that have thrived include women's soccer, ice hockey, golf, tennis, indoor track and field, and women's lacrosse.
A passion for students and student-athletes came from Adams' coaching days. He began his tenure at SU as the head men's basketball coach in 1994, coaching the team until 2011, totaling 138 wins and appearing twice in the NCAA Division III men's basketball championships and the Pride of Maryland Championships.
After moving on from coaching in 2011, Adams said that the most difficult part about being an AD is not being as connected with the students, something he sees as essential.
"The toughest part of being solely the athletic director is the [lessening of] connection with student-athletes," said Adams. "When you're coaching, you're really having a lot of contact hours with them. They come in as freshmen and leave as seniors. You watch their development and growth, you challenge them to be something better than they are … and it's about the community. So I miss the day-to-day contact with the student-athletes. Even though I'm around the athletes, it's not the same."
For 24 years Adams' motivation to come to work at Stevenson every day is simple:  "It's the people. I am really proud of not only the work we've done in athletics, but I'm proud of the work that Mark Hergan [vice president of Enrollment Management] has done, Chip Rouse [associate professor of business communication] has done, Glenn Johnston [archivist and chair of public history] has done, all these people… I really love the fact that we care about the students and that there is a higher purpose," Adams said.
The success that Adams looks for has nothing to do with the win-loss column.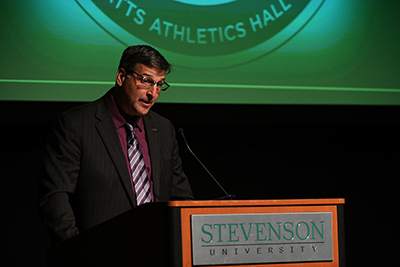 "If I can come to work and make a difference, whether it's our staff, our students, my colleagues, and if I didn't feel like I had an opportunity to make a difference, I probably would have worn out my welcome here," he said.  "I don't believe I am just the Athletic Director at Stevenson University. I feel like I am a part of the difference that we make at Stevenson, so I am in other committee meetings  — whether its the sexual assault task force, or the enrollment management meeting or the Community Engagement Committee, or any of those — I feel like I'm part of the university who's expected to make a difference," Adams said.
Whenever the time runs out and Adams is ready to step aside, he wants to be remembered for one thing.
"What I would like to be remembered for is not the legacy, it's the immediate time that I've been able to make an impact with student athletes, like right now, if it helps shape them a little bit as parents, or it shapes them as employees, or employers, or people…" he explained. "I'm not caught up in the legacy as much I'm caught up in  making a difference — not because I need my name emblazoned on the side of a building. My wife would be upset with me because she wants something named after me, and I don't think it's important at all. For some people it is, but to me that's not important  –what's important to me is in my little corner of the world to have made a difference for a few people."