Right now, Jacob Caffrey is following his ice hockey dreams to the fullest.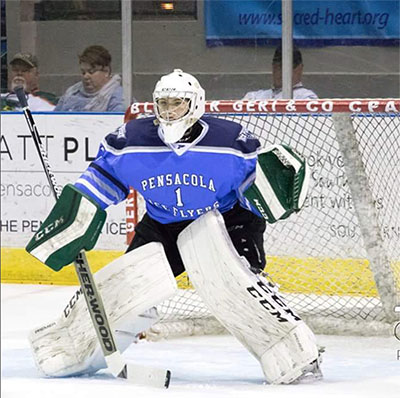 The Southern Professional Hockey League, or the SPHL, has recruited Jacob Caffrey to play professional hockey. Caffrey is the first Stevenson ice hockey player to sign a professional contract.
The SPHL is a professional ice hockey league based in Huntersville, North Carolina. Its 10 league teams are located primarily in the southeastern United States, according to its website.
When asked about fulfilling his dream to be a professional ice hockey player, he replied that it felt great to be given the opportunity instantly after graduation, rather than having to go through any tough training camps.
Caffrey received an offer from the Roanoke Rail Yard Dawgs, one of teams in the SPHL based in Roanoke, Virginia, to replace their then-injured goalie. However, the Dawgs traded him to the Pensacola Ice Flyers in Florida soon afterward, where he is currently listed as inactive.
"I was very nervous at first, but through getting to know my teammates, I found that everyone has a similar story to mine, even the kids who did not play in the NCAA," said Caffrey.
Caffrey said he has had an all-consuming passion to play professional hockey since he was five years old. However, this did not mean that his path did not come without difficulties. When he was 12, he moved away from home to pursue his dream. Then, when he was 16, he had to choose between going a traditional route that would force him to give up his NCAA eligibility, or he would have to pursue a degree as a fail-safe.
He chose to pursue a college degree and play in the NCAA because he found injuries a fact of life. He worried he would become an "uneducated 21-year-old who was unable to make a living playing hockey."
Throughout his career as a hockey player at Stevenson, Caffrey made significant achievements. In his senior year, the Middle Atlantic Conference (MAC) and United Collegiate Hockey Conference (UCHC) named Caffrey Co-Defensive Player of the Year and Goaltender of the Year. He has also been designated a four-time MAC Defensive Player of the Week.
Caffrey said that Stevenson has prepared him for what he would experience professionally, crediting part of that to his ice hockey coach, Dominick Dawes, who played for the Macon Trax and Florida Seals, making it to the Southern Professional Hockey League Finals in both seasons, according to his biography on gomustangsports.com.
But despite Caffrey's successes, he continues to face difficult choices moving forward. Caffery has considered going to graduate school, but that meant foregoing hockey and a move up to higher-ranked leagues.
"Coach Dawes played pro hockey and held each member of the team to a professional standard. His practices are run the same way professional ones are, and he was the one advocating for my skill and work ethic when the season did end," said Caffrey.
Caffrey hopes to graduate in May.