The beach volleyball team looks to improve on their record of 14-11 from last year.
As of April 5, the team is 7-5 and head coach, David Trumbo, is confident that his team can improve. This confidence comes from the amount of experience that the Mustangs will have on the sand this year. The two captains, Lauren Weaver and Katie McGuire, keep the team together and focused throughout the season.
With this added experience and five freshman, the Mustangs were challenged early in the season during the Emerald Beach Classic tournament in Kingsville, Texas. Stevenson managed to come home with an even 2-2 record, a record that may be misleading in terms of statistics. There were only two NCAA Division III and Division II teams to make it into the tournament.
Since most Division III schools do not have a beach volleyball team, Stevenson often competes against Division I and II teams.
The trip to Florida over spring break was the team's "biggest test of the year so far," Trumbo said, and the team would need their veterans to help get them prevail. The Mustangs beat St. Thomas University (5-0) and Florida National University (4-1). Moving from Miami to Tampa, the Mustangs lost two games to NCAA Div. II schools, one to the University of Tampa (3-2) and the second to Eckerd College (3-2).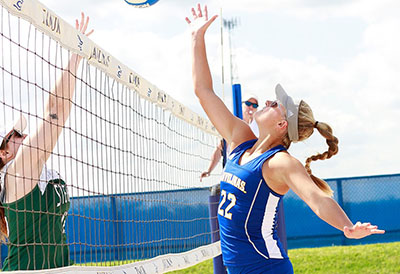 The Mustangs took home three more wins, against Warner University (5-0) and Webber International (3-2), an NAIA Division I school. They concluded the tournament with a 3-2 loss to Division II Florida Southern College and a 3-2 victory against Division II St. Leo University.  They beat the defending small college national champion, Webber International, and returned home with a record of 5-3.
Freshman Elizabeth Cudal said, "The team played great! We worked hard as a team to fight for wins and connected on a deeper level as a team, while 1,300 miles away from home. Since then, we've gotten more and more difficult wins."
Trumbo and his team are turning their attention to the upcoming Small College National Championship tournament in Tavares, Florida. The Mustangs will travel to Principia College in Elsah, Illinois, for four games, and then will be back at home for VillaFest weekend, April 28-29, for games against Towson University, Morgan State University, and Carson-Newman University from Tennessee.
As of the fall of the 2016–17 school year, 55 Division I, 11 Division II, and three Division III schools are NCAA-recognized in beach volleyball. Stevenson is one of the three Div. III universities fielding a beach volleyball team.