The School of Design will hold the annual internship showcase in the Rockland banquet room on April 12 from 4-6 p.m.
The event features students who completed internships during the spring 2018 semester. Students will present their internship experiences to faculty and staff members, their peers, and even employers. Nearly 60 students will be available to discuss their experiences at their internship sites. Following the event, there will be a "Mix and Mingle" session from 6-7 p.m.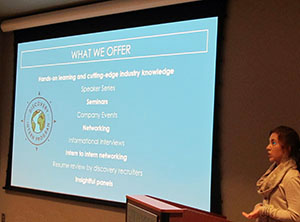 Sonya Lawyer, assistant professor of design and internship director for the School of Design, considers the showcase a "celebration."
Since there is a large group of students, some will be collaborating for their presentations, according to Lawyer. Time restrictions prohibit each student from presenting separately.
Prior to the showcase, the students had to undergo preparation before getting the chance to highlight their experiences. They were asked a week in advance to conduct their presentations in class, and classmates rated their presentations. One of the students, DeJonna Farrar, a business communication major, said the preparation was to ensure there were no errors during their presentations.
Students who both attend and showcase their internships will also get the opportunity to seek other internship opportunities and jobs at the event.
"I'm hoping that current student interns will feel the love and understand that their accomplishments are to be celebrated. For students looking for internship placements, I hope they will gain some helpful tips into the internship process," said Lawyer.
She added that she hopes students attending the event could even secure an interview with a company by the end of the evening. Despite already accomplishing one, Farrar hopes to find another internship in a different field.
Students who want to learn more about the event can contact Sonya Lawyer through campus email.
Listed below are the students and their internship sites. Students of all majors are invited to the event.
Ian Abee – Elite Tournaments
India Afriyie – Girls' Life Magazine
Hailey Bedford – First Tee of Greater Baltimore
Lilly Bittner – A Style Studio
Evan Bowen – Maryland Public Television (MPT)
Zachary Brecheen – Maryland Productions
Morgan Cary – St. Paul's School
Taryn Chinich – Tuxedo House
Grace Clark – Edie Brown & Associates
Sarah Cullison – Gramercy Mansion
Michael Edwards – St. Paul's School
Ethan Ehrhart – Shootout for Soldiers
DeJonna Farrar – Chik-fil-A
Sarah Furman – DBM Communications
Brooks Gray – Focal Point Productions
Oliva Hare – MGH Advertising
Devon Hightower – Ed Block Foundation
Courtney Hottle – Sterling Forever
Julie Hudson- Mid-Atlantic Contracting
Octavia James – Public Justice Center of Maryland
Cindy Jean – Stevenson University, Fashion Design & Merchandising
Bianca Johnson – Ruth's Closet
Corrin Johnson – Hamilton Bank
Chantel King – Deja Vu
Emily Kurek – Ruth's Closet
Hannah Krasinski – Inside Lacrosse
Meghan Loveless – MGH Advertising
Gage Markley – Stevenson University, Office of Career Services
Heather Martz-Keller – Art With A Heart
Jaclyn May – GKV
Caitlyn McElroy – Obie Productions
Taja McNeal – Liston Baylor, LLC
David Miles – Ed Block Foundation
Daniel Miller – Maryland CASA
Malik Mohammed – St. Paul's School
Taylor Murphy – Employer Assurance Solutions
David Nance – Art With A Heart
Lauren Novsak – Maryland Public Television (MPT)
Taryn Parsons – Phantasy Management
Tiara Pitt – Maryland Public Television (MPT)
Taylor Poblett – 186 Advertising
Kamica Price – Vectorworks, Inc.
Jennifer Quinn – Roy Cox
Chloe Reynolds – Ann Taylor, Loft
Kaya Roberts – Eleven Courses & Port Disovery
Anthony Rossi – St. Paul's School
Najee Rudolph – Stevenson University, Athletics Department
Kourtney Shearer – Stevenson University, Fashion Design & Merchandising
William Small – Stevenson University, Athletics Department
Lindsay Somuah – Action Chapel International
Lauren Spivey – 1840s Plaza
David Steinwedel – Ed Block Foundation
Steven Thomas – Stevenson University, Office of Information Technology
Lau ren Weaver – Stevenson University, Athletics Department
Daniel Williams – Stevenson University, Athletics Communication Department
Jacqueline Wolf – The Knitting Factory
Kayla Zuromski – Maroon PR