Beach volleyball seeing success in third year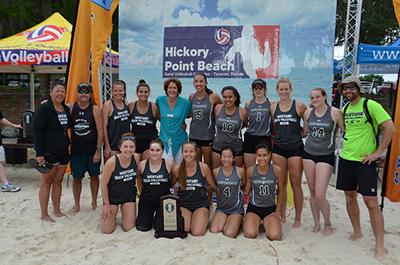 The Stevenson University women's beach volleyball team is wrapping up its third season with a record of 14-6 with only one tournament remaining. The team is currently riding a four-game winning streak entering their final tournament.
"The team has been working extremely hard this season to finish strong and break new strides for the program," said head coach David Trumbo.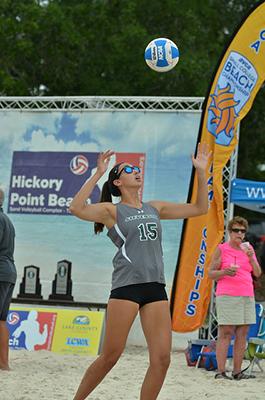 The Mustangs recently traveled to Tavares, Florida, to compete in the 2018 American Volleyball Coaches Association (AVCA) Small College Championship at Hickory Point Beach. On day one, the Mustangs swept San Diego City College 5-0, and then edged Warner University (NAIA) 3-2, advancing to the finals. The Mustangs fell short to top-seeded Webber International University (NAIA) 4-1 in the final.
The Mustangs then traveled to Elsah, Ill. where they competed in four matches against four different schools at Principia College. The team won all four contests, all clean sweeps at 5-0 coming against; Principia College, Ottawa University, Lewis and Clark Community College and Morehead State University. The team is looking to carry this momentum into their final tournament of the season.
The Mustangs will host the third-annual season-ending Stevenson Invitational Quad Match, Villafest, on April 28-29. The team will welcome Division II Carson-Newman University, and Towson University's and Morgan State University's indoor teams.
Sophomore Julie Nightwine said, "I am looking forward to hosting Villafest and showing the other teams the new additions to our campus."
According to the NCAA, beach volleyball is the fastest-growing women's sport in the past five years. Stevenson holds the title as the nation's first NCAA Division III women's beach volleyball program. Today, the NCAA recognizes three Division III beach volleyball teams, including the Mustangs, Huntingdon College and Principia College.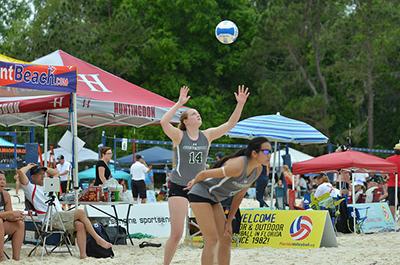 "This season has been extremely challenging so far but has taught me that with good communication, effort and support you can accomplish your goals. Beach volleyball requires individuals to take responsibility for what they can and push themselves farther than imagined," said senior Lauren Weaver.
Trumbo said that with only three seasons under their belt, the team has developed more skills, confidence and teamwork than ever, as they're becoming a unit and growing together. With a growing number of 14 athletes, all of the players contribute to the success of the program.
"Beach volleyball is very much a mental and team sport. These girls have practiced hard to master both of these aspects in the game," said Trumbo.
Nightwine agreed. "This season has been better than past seasons because we are finally able to really compete with the Division II and NAIA schools that we play," she said.
Trumbo said the biggest highlight of the season was the team's spring break trip to Florida where they faced multiple club teams, Division II teams, and a NAIA Division I team, whom they beat. The Mustangs traveled from Miami to Tampa and returned to Maryland with a 5-3 record.
The Mustangs are hoping to expand their program, travel to new places and compete against new teams next season.
Donate to Stevenson Villager
Your donation will support the student journalists of Stevenson University. Your contribution will allow us to purchase equipment and cover our annual website hosting costs.