Nearing the end of the spring semester, Stevenson University's club sports program is expanding, and some teams are finishing off their seasons strong, specifically the dance and baseball teams.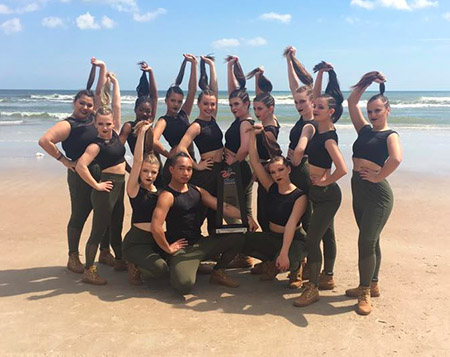 The club sports program now offers 12 different sports for students. According to Matt Grimm, director of club sports, two new teams– men's ice hockey and eSports– have been added to the program this year. The other teams include baseball, men's basketball, women's basketball, cheerleading, dance, field hockey, men's lacrosse, women's soccer, softball, and women's volleyball.
In particular, a few teams have had impressive seasons so far. Stevenson's dance team just returned from the National Dance Alliance College Nationals held in Daytona Beach, Florida, from April 4-7. Rebecca Holcomb, a senior on the team, said that the competition is the "main event of the year for a lot of college dance teams across the country."
At this event, the Stevenson dance team competed in the Division III hip-hop category, where they finished second in the nation. Holcomb said the team is proud of themselves for surpassing their goals this season and are so thankful for their coaches' dedication to the team. Holcomb is excited to see how the program will continue to improve next year.
The baseball team has also had a strong season this spring. The team currently has a record of 8-7, according to gomustangsports.com and was tied for second in the conference. The baseball team advanced to regionals against Villanova University April 21-22. However, their season came to an end after a defeat.
"The team has played well and were all meshing great together," said Antonio Sacca, a freshman on the team. He hopes that the team can continue their success into the next semester and gain new players who can continue to help.
For many students, the club sports program is a great way to play sports competitively in college without committing to an NCAA schedule. Each of the club teams has a coach, with multiple practices planned throughout the week, and players compete against other colleges on the weekends. Sacca would like people to know that club sports are a good option for those who like to play competitively, but still want to have time for academics and a social life.
After a successful spring semester, Grimm's goal for the fall is to continue to provide "great sports experiences for the students at Stevenson University." He encourages students to join club sports. Those interested in getting involved or who would like to start a new club sport can contact him for information. "I can walk them through the process of getting a team off the ground," said Grimm.