New campaign encourages timely graduation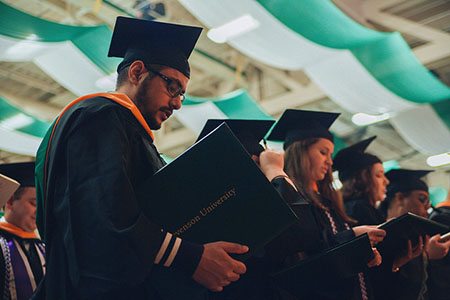 Stevenson has introduced a new "Finish in Four" campaign in the hope that it will teach students the importance of obtaining their degree in four years or less.
Dr. Christine Moran, the assistant vice president of Student Success, and Bridget Brennan, the assistant vice president of Academic Affairs, are overseeing this campaign and are confident about its results. Moran said that not only is Stevenson implementing the initiative, but there is a national campaign promoting the initiative for the purpose of increasing college graduation rates.
WHY THE CAMPAIGN IS BENEFICIAL
Obtaining a degree in four years can be beneficial to many students. For example, students may find that taking four years to complete their degree allows them to avoid paying more tuition, get a job earlier, and even pursue post-graduate degrees sooner.
Moran said the process is about maximizing opportunities. If students can plan early to finish their degree in four years, they can make decisions on the entire course of their education rather than just the current semester. If they want to participate in study abroad, internships, service learning, or professional minor programs, plans can be strategized accordingly.
Kashia Adams, a criminal justice senior graduating in December, said, "Graduating in four years definitely saves money and allows the student to either start a career or go to graduate school." Brennan concurred, "That's an extra year of experience in the workforce and salary gained."
Other universities are bringing similar campaigns to their schools, but some are naming it "15 to Finish," according to Moran. However, Stevenson decided to name its campaign "Finish in Four" because the university does not want students to think they have to take more than 15 credits each semester. "We just want students to know that they need to take 30 credits a year to stay on track to reach 120 credits in four years," she said.
"Stevenson is a community set on student success," said Brennan, noting that it has the tools to help students plan their four years. This is why, she added, the online planning software in which students map all eight semesters was created.
"You can really see how taking certain classes rather than others will affect the four years," she said. The university also sets itself apart by offering a self-enrolled course to all students called "Design Your Degree," as well as success coaches who start assisting students as soon as they step foot on campus.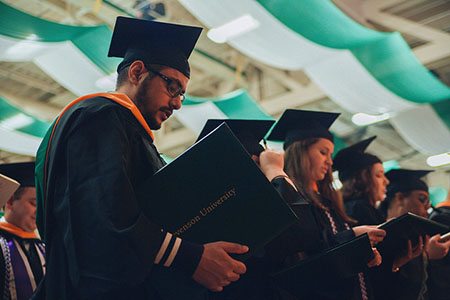 WHY STUDENTS TAKE MORE THAN FOUR YEARS
Many factors can derail the plan to complete the necessary 120 credits in four years. Students who are deciding on a major are one example. In response, Stevenson has implemented success coaches who work as resources to connect them with Career Services.  By doing so, students can assess their strengths earlier and, by the end of their first year, should be able to declare a major.
Success coaches are available for students of all majors and can be helpful in early planning. Coaches are also useful for students who change their major and have taken classes that are not required within their new major. This is why academic departments have been working hard to make programs more flexible, knowing that, nationally, 30 percent of students change their major, said Brennan.
Students who drop classes can be set back and may find it hard to make up credits. "I have a lot of nursing friends who take five years to graduate," Adams said. She added that some programs are very challenging and there is always a possibility that a student may need more time to complete the degree. "It honestly depends on the individuals and the workload they can handle," said Brennan.
According to Brennan, this initiative is not just a campaign but a set of tools built into Stevenson's success model. In order to advertise the campaign, Moran's graduate assistant, Caroline Izzi, designed marketing posters. Moran and Brennan are also ensuring that all academic advisors have the necessary information to guide students and that departments are incorporating it into the First-Year Seminars.
Donate to Stevenson Villager
Your donation will support the student journalists of Stevenson University. Your contribution will allow us to purchase equipment and cover our annual website hosting costs.