Stevenson University will host the eighth annual Relay for Life March 30-31 from 3 p.m. to 3 a.m. in the Owings Mills gym.
Relay for Life is a community-based fundraising event for the American Cancer Society. The event is set up like an actual relay race. Team members take turns walking around a track or designated path. The event is 12 hours long and requires someone from each team to be walking around the track at all times—symbolic of the fact that cancer, and the fight against it, never stops.
RELAY FOR LIFE AT STEVENSON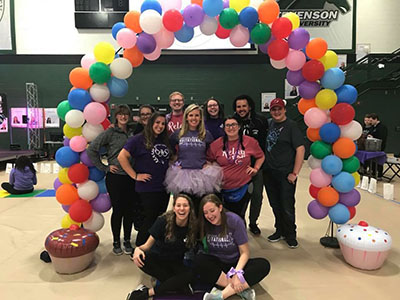 Lauren Chelenza, a Stevenson nursing student, is this year's event lead. With a personal experience in the fight against cancer, she said that Relay for Life is something that is close to her heart, especially since she battled cancer at 10 years old. She added that her battle with cancer was a very trying time in her life and that she does not want other children to go through what she did.
Chelenza dedicates much of her time volunteering and raising money for cancer research and the care of cancer patients. She has been a part of Relay for Life at Stevenson University for three years as a volunteer, as a board member, and now as the event lead.
Relay For Life has 3.5 million participants, ranging from survivors and patients to advocates, volunteers, caregivers and researchers. To kick off the Relay for Life event, participants are welcomed in an opening ceremony, where they are greeted with cheering and encouraging words. Throughout the event, participants share the experiences they have had with cancer. The testimonies include speeches from current and previous cancer patients, caregivers who have helped take care of a cancer patient, and people who have not been directly affected by cancer but want to raise awareness and funds for this cause.
"The event is heartfelt. The room is filled with optimism and support," said Katherine Powell, a junior pre-med major, reflecting on her volunteer experience at Relay for Life.
The first lap of the race is called the survivors' lap. Survivors and those who are currently affected by cancer walk the track and are cheered on and supported by those in attendance. Next, a caregiver lap recognizes those who have provided support to their loved ones during cancer treatment. After celebrating the survivors and caregivers, teams pour onto the track to start the official celebration.
Team members take turns walking throughout the evening. When participants are not doing a lap, they visit other teams' campsites to play games, participate in activities, and enjoy entertainment while learning how to be a better advocate for the American Cancer Society.
Directly after sunset, Luminarias are lit to remember those who died, to celebrate cancer survivors, and to show those affected by cancer that they are not alone. The Luminaria ceremony includes three speeches, one by a cancer survivor, one by a caregiver, and one by a faculty member who has a personal connection to cancer. Additionally, there will be small gift bags surrounding the track in the gym, called Lum bags, that can be purchased for a donation of $5. These bags are made to commemorate deceased loved ones and cancer survivors. After the Luminaria, participants will put glow sticks in the lum bags and have a moment of silence for people who have been taken by and who are suffering from cancer.
Lastly, a closing ceremony wraps up the event. All participants are recognized for their involvement and hard work.
Chelenza called the event very empowering and life-changing. She is excited for this year's fundraiser and the impact it will make on hundreds of people's lives.
GETTING INVOLVED WITH RELAY FOR LIFE

"This event is something I hold near and dear to my heart because cancer has affected so many innocent lives," said Kelly Dunworth, a Relay for Life member. She and the rest of the Relay for Life club members hold several small events throughout the year to market the Relay for Life event. The club has Facebook and Instagram pages to help publicize the event and keep followers up to date on the club's act.
The Relay for Life club has regularly set up tables in Rockland to gain support from the student body. During the weeks leading up to Thanksgiving, the club made gobble grams that could be purchased and sent to someone for whom the sender was grateful. All donations collected by the Relay for Life club are sent to the American Cancer Society.
"Students can get involved by joining a team or by starting a team of their own," said Chelenza. "There is a $15 donation fee to register for [Relay for Life]."
The Relay for Life club meets weekly in the School of Business in room 308 on Tuesdays at 8 p.m.
Sports editor Tim Craig Jr. contributed to this article.