Entering the 2019 season, Stevenson men's soccer hopes to build upon last year's success in hopes of entering the national tournament for the first time ever.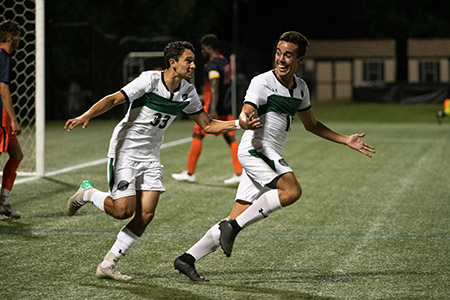 This season marks head coach Graeme Millar's third season coaching the men's team, and the team has high expectations heading into the season. Millar said that one of their goals includes winning the Middle Atlantic Conference (MAC) after they reached the conference playoffs last season for the first time since joining the conference in 2012.
Junior defenseman Jevan Leyh echoes Millar's comments about making the NCAA tournament after the recent success of last year. Leyh said that the team believes that they can finish at the top of the conference this year because they have set the bar high for themselves.
Coming into this season, Millar said that the Mustangs have more depth in every position as a result of good recruiting classes in recent years. This has enabled them to insert players into the starting rotation, when and if someone gets injured, without missing a beat.
So far this season, most of the starting lineup includes primarily sophomores and juniors which has resulted in a mix of confidence and experience, said Millar. He added that with younger players there is often a learning curve from club soccer to college play.
The Mustangs are currently 5-2-2, and started the season strong with three wins and a tie. They have since dropped back-to-back games to Gettysburg College and St. Mary's College (Md.), while also tying Stevens College in double overtime. They rebounded in their win against Delaware Valley University and won their most recent game at home versus Immaculata University 2-0.
Millar explained both of the losses, noting that against Gettysburg the Mustangs could improve on set pieces as all three goals scored against them came off of corner kicks. He added that against St Mary's, the team lacked energy from the beginning of the game and need to show intensity for 90 minutes.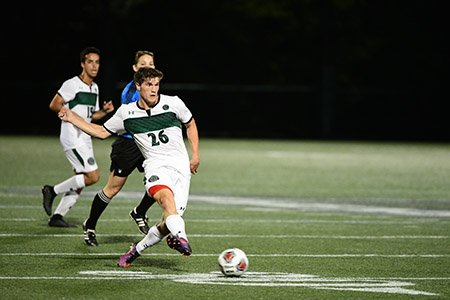 Leyh added that the team could work on playing better as a unit. He explained that there have been times in games where the team was caught out of position and was scattered. Leyh said that if they continue to work on those parts of their game, they will be successful heading into conference play.
The Mustangs have only two games left before they start conference play. Millar said that the team's goal is to gain confidence and remain healthy going into this part of the season.
The Mustangs will go on the road for their next contest as they take on Eastern University on Sept. 28 for a game at 3 p.m.