Mustangs ride high on win streak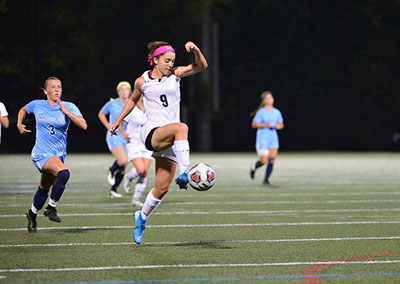 The Stevenson women's soccer team improved their win streak during their conference opener this past weekend, after a 3-0 win against Albright College. The team confidently entered the game, following two big wins to Marymount University and Immaculata University earlier that week.
After a difficult start, with six consecutive single goal losses, the Mustangs prevailed in a 3-2 win against the Marymount Saints of Virginia. Senior Alayna Roesener, freshmen Lezah Gannon and Cassidy Butler scored the Mustangs' three goals.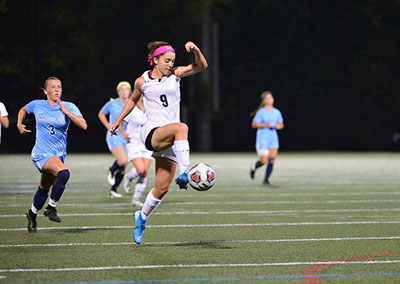 "The difference between us and those first six teams was our scoring ability, but we believed that the flood gates would open once we started taking risks," said head coach, Tati Korba. After the win against Marymount University, the Mustangs would go on to win an exciting 4-0 match against Immaculata University under the home lights.
Korba said the game was great exposure for her players. "We had four different players score and a lot of great opportunities at the goal." Senior Marissa Inglisa and freshman Cassidy Butler each scored a goal to give the Mustangs a 2-0 lead at the half, while juniors Gabrielle Arters' and Shannon McNulty's goals would close the game.
Korba explained that it was important to get her players to commit to the attack and commended them for their execution during the match. She said the women "brought the attacking mentality we had been missing earlier this season."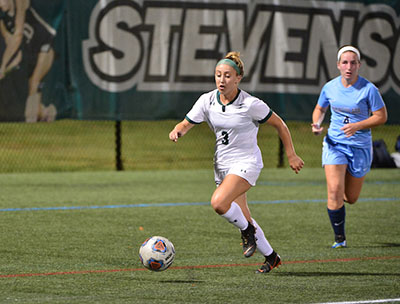 According to sophomore midfield Megan Meyer, the "attack mentality," begins at practice. Korba said she tries to keep a competitive, yet relaxed atmosphere during training sessions, while Meyer said practices are not only opportunities to get better, but a time to discuss opponents.
"We are always watching film on other teams, finding weaknesses and gaps we can exploit," said Korba. She then plans her training sessions accordingly, focusing on skills that will help her team succeed.
Against Albright College, Korba told her players to exploit the weak spots in their opponent's defense. After the 3-0 win, both Meyer and Korba agreed the team did just that; translating what they worked on at practice to Mustang stadium.
Meyer said she is hopeful and excited to see how the rest of the season will turn out. The team, currently 5-6-1, looks to expand their win streak with upcoming conference play.
The Mustangs travel to Alvernia University on Oct. 12 and return home Oct. 18 against Lycoming college.
Donate to Stevenson Villager
Your donation will support the student journalists of Stevenson University. Your contribution will allow us to purchase equipment and cover our annual website hosting costs.