Stevenson's field hockey team finished the season with a relatively inexperienced group playing up to the competition despite finishing below .500.
Head coach Laurel Martin said, "This year, our defense was definitely our strong suit. Our goalie is strong and overall we play good defense as a team."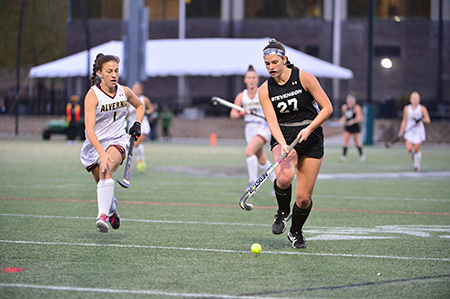 She added that she thought that the team played well against tough opponents. "If we could have gotten more wins against the teams who were even with us, things might have been different," she said.
The team finished 6-13 overall with five wins at home but only one win on the road. They were able to take a key win against Arcadia University at home in Mustang Stadium early on but were unable to gain much momentum after that. Stevenson ended up losing the last two in-conference games by one goal.
The most recent exception to the close games was the Mustangs' 6-0 rout of Hood College on Oct. 23 on the road, outshooting the Blazers 25-1 with six Stevenson players scoring in this MAC Commonwealth game. Prior to that, the Mustangs had lopsided shutouts against Centenary College in New Jersey (7-0) on Sept. 21, and against Lancaster Bible College (8-0) on Sept. 12. A 9-0 shutout victory on Sept. 1 against Notre Dame of Maryland University set the stage early for the routs that would follow, but the stiff opposition the Mustangs faced through the season gave them just a few chances for games like those.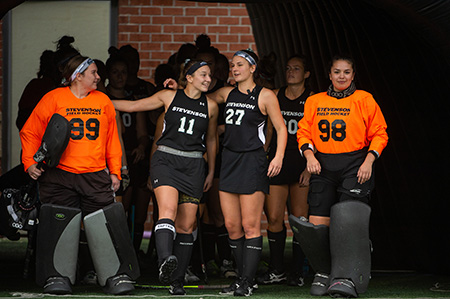 "Collectively, they are a true team. They are kind, genuine, and very selfless. They really do care about each other, and you don't see that very often," said Martin, who also confirmed the tough level of their scheduled competition, especially this year in conference.
"I would anticipate most of our players will come back," she said. "We are having a strong recruiting year as well, and I have some positive feelings about the future because a lot of the younger players needed a year of experience."
The team will lose seniors Kelsey Eure, Emma Adams, Hope Nyarady and Ashli Glatfelter, who were honored before the senior game in Mustang Stadium on Oct. 26. Adams had her sixth goal of the season that night against Alvernia College, and Eure had 15 saves.
The Mustangs played some of their best games against teams that were more experienced and talented, including an Oct. 30 2-1 loss to perennial foe Albright College in the final game of the season on Oct. 30.
Martin and the rest of her team look to use that experience for next season against the staunch competition of the Middle Atlantic Conference.