The Stevenson men's basketball team has won three consecutive games after losing their season opener against Scranton University on Nov. 9.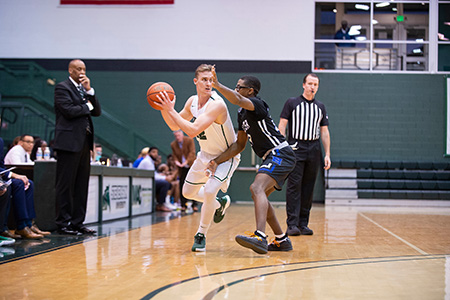 The Mustangs took a loss to Scranton University in their first game, but rebounded on Nov. 15 with a 84-65 final against Becker College to win the BWW Classic championship. Junior Cam Harris had a career-best 21 points to lead the game in the Mustangs' win against SUNY Maritime College, and was named to the all-tournament team.
During the final against Becker, the Mustangs placed three players in double figures. Freshman Norman Hughes led the game with 15 points, and senior Mark Terrell following with 9.
Head coach Gary Stewart said he is excited to watch this group play, because it is a combination of all the work they did in the off season and in recent years to get here.
Stewart added that the team has changed their style of play and implemented some alterations to their scheme, which he hopes will propel them further into the Middle Atlantic Conference (MAC) playoffs.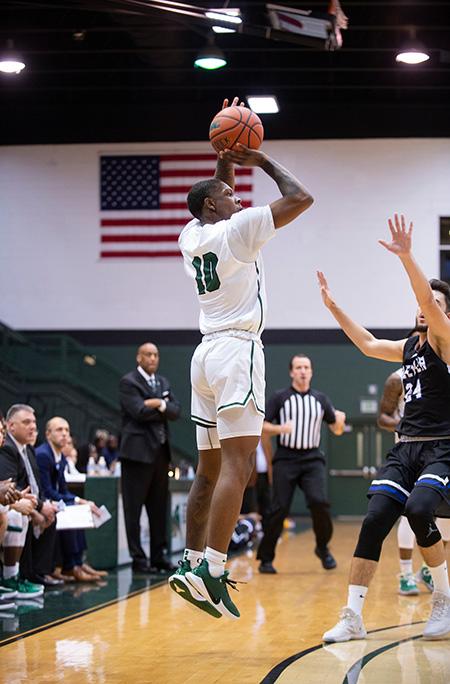 The Mustangs finished 14-13 last year, and dropped the first round of playoffs to Albright College after placing fourth in the MAC. Then they qualified for the Eastern College Athletic Conference (ECAC) tournament, but unfortunately fell to Rutgers University Newark in the first round. The Mustangs are currently 3-1 with their most recent game being over Salve Regina in Newport, R.I. on Nov. 19.
Junior Evan Joseph described the team as a "great group of guys from top to bottom." Harris added that the team has a lot of talent and confidence that can take them further in the tournament this year.

Both Harris and Joseph are returners who saw significant time in the starting line-up in 2018-19, with Harris making 25 starts and Joseph 18. The Mustangs are also returning Terrell, who was the second leading scorer last year and a second-team all-MAC selection.
Stewart warned that just because there are returners doesn't mean that they retained everything from last year, according to gomustangsports.com. "Fortunately," he said, "we've got some 24-7-12 months-a-year kind of guys in terms of improving and getting stronger." Stewart said they place emphasis on standards and expectations, and look to build their program every day.
The Mustangs will play John Jay College at Marywood University on Nov. 22, 2019, and will start conference play on Dec. 4 at Messiah College.