The fourth annual Brown School of Business and Leadership Showcase will take place on Friday, Dec. 6, at Stevenson University. Fashion merchandising majors will hold a round table discussion from 1-2 p.m., and the student poster and project showcase will be held from 2-4 p.m.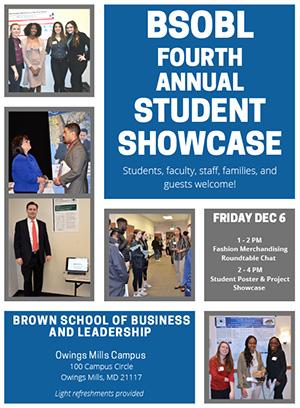 Dr. Alan Carswell, interim dean for the School of Business and Leadership and one of the event's coordinators, said that the main purpose of the showcase is to allow students to exhibit their best ideas. This year, everyone at Stevenson is invited to attend as well as faculty from other local schools.
"This year's showcase will be different. In the middle of the day, fashion majors will sponsor a roundtable chat for anyone who would like to learn more," said Carswell.
He added, "There have been great turnouts to prior showcases and with more people invited this year than ever, there will be more opportunity for the students to show what they have been learning specifically in the classroom."
One of the projects that will be featured at the showcase involves students in a programming class who used computer applications to make an interactive Hangman game. Typically, if a player guesses a letter incorrectly, a part of a figure will be drawn on the hanger.
Andrew Gerbasi, a sophomore business administration major, said, "It's a fun way to exhibit what you have learned in class but at the same time be serious about your career. I know a couple people that were in it last year and they said it was a great experience for them."
The School of Business and Leadership offers six bachelor's programs, including accounting, business administration, computer information systems, cybersecurity and digital forensics, fashion merchandising, and marketing. The School of Business library and the Cybersecurity and Digital Forensics Lab are also found in the School of Business, according to the Stevenson University website.
Lastly, Carswell said, "The showcase is really just about allowing the students to show what they have learned while being here at Stevenson as well as offering them feedback. It's a great event, and I am looking forward to this year's turnout."