New exhibit opens in Greenspring art gallery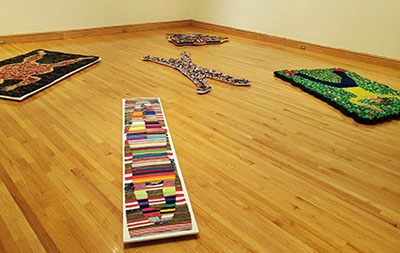 The Greenspring art gallery has a new display, Disposition, featuring several colorful pieces that everyone is welcome to see Monday-Friday from 11 a.m to 7 p.m. and on Saturday from 11 a.m to 4 p.m.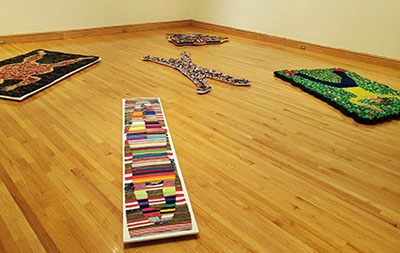 The gallery displays art by Susie Brandt, a fiber artist from Baltimore and a teacher at Maryland Institute College of Art (MICA), where all of the pieces are self-reflection. The artist uses fabrics and patterns to fill in a tracing of herself and, according to Brandt, there is no hidden message in her work since the message is up to the viewer's interpretation.
Only two of the art pieces are handwoven. One of these runs along the wall and the other looks like Brandt is stretching with her hands up in the air.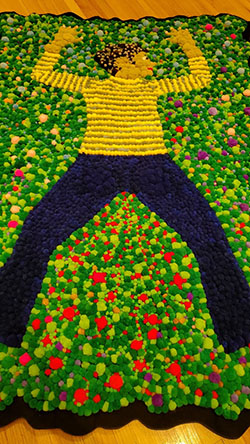 The other pieces use fabrics she received from friends or she bought from the store. One art piece is made entirely from pompoms she received from her sister.
All of her art pieces were made within the last five years and were inspired by an exhibition of 19th century carpets of "flayed men" at the Metropolitan Museum of Art, primarily from Tibet and China. Thus, most of Brandt's pieces are rugs with an outline of the human body.
However, the final piece, a handwoven piece hanging on the wall, was made especially for the exhibit and is a homage to Anni and Josef Albers, artists who pioneered the modern uses of textiles. According to their Foundation's website, Anni Albers "was a textile designer, weaver, writer, and printmaker who inspired a reconsideration of fabrics as an art form, both in their functional roles and as wallhangings."
According to the art gallery curator, Aden Weisel, Brandt had been previously contacted for an exhibit, but since she was about to go on sabbatical, she declined. Most of the artwork displayed was made during and after Brandt went on her sabbatical.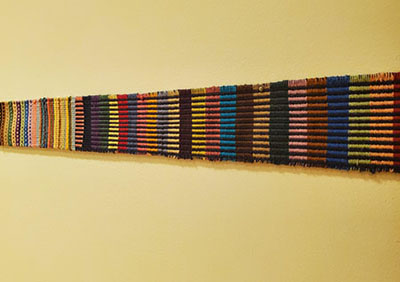 Brandt has received awards for her work from organizations including the Maryland State Arts Council and Creative Capital, according to her MICA website. She received her MFA from the School of the Art Institute of Chicago.
The gallery will be open for the rest of the semester and there will be several events based on those art pieces or on the artist herself. The events are a wet felting self-portrait workshop on March 6 in the Manning Academic Center and an artist's discussion with composer David Smooke on April 2 at the Greenspring art gallery.
Donate to Stevenson Villager
Your donation will support the student journalists of Stevenson University. Your contribution will allow us to purchase equipment and cover our annual website hosting costs.