As Stevenson's men's volleyball team began their in-conference season, they were coming off a challenging weekend in Springfield, Mass., where the No. 12-ranked Mustangs split in the Hall of Fame Classic, beating the Rivier University Raiders (N.H.) 3-1 but subsequently losing to then No. 2-ranked Springfield College by the same score.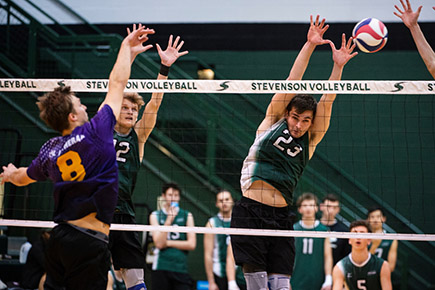 Middle Atlantic Conference play opened the following week as the Mustangs blanked Widener College 3-0. The home game saw Stevenson hit .256 for the match while the Pride was limited to .027 hitting. Gomustangsports noted that junior Nate Reynolds hit .462 and had a team-high eight kills as well as a pair of blocks. Senior Kyle Bosko hit .400 with 10 kills and two blocks in the win.
As of Feb. 18 the Mustangs were ranked No. 10 in the NVAUSA/AVCA Division III Men's Coaches Poll.
At Arcadia University on Feb. 21, the Mustangs got off to a slow start, losing in straight sets, 25-16, 26-24, 25-19. Gomustangsports noted that the loss was only Stevenson's second in MAC play in the conference's third season. The Knights held the Mustangs to .170 hitting, although sophomore Tanner Stauffer hit .304 and had a team-high 11 kills to go along with six digs and a block in the loss. Setter/opposite Alex Melbardis responded to the team's Arcadia loss: "After the poor performance against Arcadia as a team, we were all fired up. That helped me get in a rhythm early and gain confidence."
In the last three games of the shortened season, the Mustangs posted strong wins. Against MAC foe Alvernia University on March 4, juniors Logan Smiley and Melbardis combined for 23 kills, while Melbardis alone had 11 kills, 15 assists, four digs, three service aces, and two block assists, according to gomustangsports.com.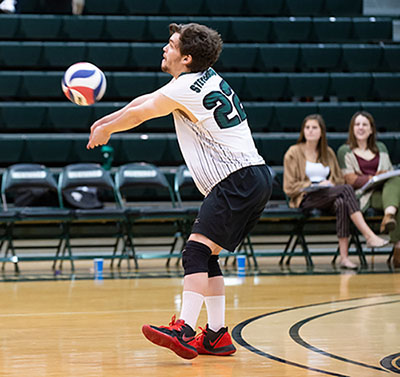 Two days later, the Stevenson hosts faced Cal Lutheran University, who was traveling on their spring break. The Thousand Oaks, Calif., team was on a four-team road trip when they lost to the Mustangs in four sets, 25-17, 21-25, 25-21, 25-17. Stevenson hit .265 for the match and held the Kingsmen to .175 hitting, while the Mustangs' 10 service aces were a new season high.
"We knew we needed to serve well and get a couple of their best players off their game. Once we established pressure we just kept it going the whole match," said Smiley.
In a post-game interview, Coach Aldis Berzins said he was thrilled to win against "a really good team from California," who typically plays Division I-like competition. "It was nice to play a different kind of game," Berzins said, noting that serve and block, without ever having to side-out, is his preference. He also said that the audience probably enjoyed the style of play that the California team brought.
In what turned out to be the final game of the COVID-19-shortened season, the Mustangs traveled to Messiah College on March 11 for a 3-0 victory, which saw Smiley record a match-high 15 kills and the Mustangs hit .272 compared to the Falcons' .000.
"Things were just starting to flow really smoothly," said senior libero Derek Tangorra. "The whole team felt it. It's so sad not only to have the season stop when it did so early, but we were just finding our groove when it all stopped."