Athletics navigates COVID-19 setbacks

Fall 2020 athletics at Stevenson — and even perhaps into the spring of 2021 — won't look like anything students have ever seen before. 
The world as a whole had to face a new challenge in COVID-19, which has not only made life in general difficult, but which also has created setbacks in both university life and in athletics.

As of Sept. 17, some colleges are attempting to return students to campus and start athletics programs back up. NCAA sports, in conjunction with university decisions, have set in place protocols that will define what sports look like for the next several months.
What immediately concerned athletes was the decision made on July 24 by the Middle Atlantic Conference, in which Stevenson University participates, by which university presidents chose to suspend all intercollegiate athletic competition for the fall semester. This decision was made with the hope that teams could begin competing in the spring or after Jan. 1, 2021, depending on several factors. Return to play hinges on the health of student athletes, staff, and even the health of the nation.
Even though Stevenson's athletics department, in conjunction with the university's COVID-19 task force, is working tirelessly getting back to normal, it remains unpredictable what could happen for athletes and their upcoming seasons.
The athletic department's main goal now is to make sure athletes are keeping up with strength and conditioning until they are able to compete again.
Tati Korba, head coach of the Stevenson University women's soccer team, told players that "as soon as it's safe and encouraged, they will be in the gym and on the pitch training to prepare for whatever is thrown their way."  
Like the other coaches at Stevenson, Korba wants to make sure her players are able to do what they love in a safe and healthy way and be able to compete as soon as possible.
To be able to do that, though, each program must respect the rules and follow each phase's protocols accordingly. There are three phases: Orientation (which the athletes are currently in); Pre-Competition; and Return to Competition.
The first step requires getting athletes back onto campus while remaining socially distanced, so while weightlifting and conditioning for sports are recently allowed, strict guidelines must be followed. For instance, only a certain number of people can attend group sessions, and coaches are working to sanitize everything that the team touches.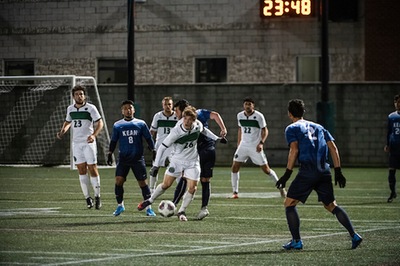 Outside, on the turf or fields, a maximum of 10 players are allowed. If the university follows the established protocols, then as teams move through the phases, greater return to play may be permitted.
The final stage would possibly include more intensive training and scrimmages, clearly a team goal. In order for this to happen, however, coaches and teams must continue to wear masks everywhere and respect Stevenson's policies regarding Covid-19. No dates are indicated yet for return to play than what is currently occurring.
The NCAA has provided an eligibility waiver for athletes who don't play more than 50 percent of their season limit, to give them another opportunity to play another year.
However, "None of this can be set in stone or promised due to the unpredictability of this virus and what we may not know could happen," said Chip Rouse, athletics academic coach. The administration at Stevenson, including those in athletics, are closely monitoring students' participation in athletics as an indicator of what may happen next. 
— Edited by Justin Trapani
Donate to Stevenson Villager
Your donation will support the student journalists of Stevenson University. Your contribution will allow us to purchase equipment and cover our annual website hosting costs.