After 45 years of teaching, 36 of them at Stevenson University, Chip Rouse decided to switch roles as a business communication professor to the university's new Athletics Academic Coach this year.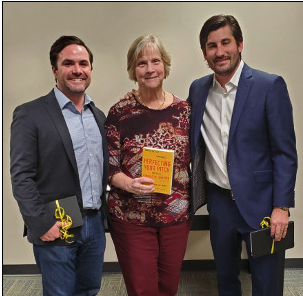 Rouse told The Villager that her new role allows her the opportunity "to be doing something different than grading papers every night." Indeed, Rouse's new day-to-day schedule includes helping Stevenson University athletes achieve a balance between practice, study, and social time.
Specifically, Rouse has been meeting with Stevenson athletes online via 45-minute BlueJeans sessions. These sessions cover topics such as beginning the academic year strongly, time management, studying smarter, emotional intelligence, effective emailing, and building resilience.
Rouse explained how her years as a professor have guided these online interactions with athletes. They have specifically taught her how to be passionate about students' mental health and understand their hardships better. "I want the students to know that they're supported by faculty," Rouse added.
A majority of Rouse's time is spent meeting one-on-one in person with student-athletes to help them plan their week ahead and help answer their academics concerns. Other topics Rouse covers with students include their choice of major, how to use Blackboard, internship opportunities, where to get a tutor, and how to budget their time. Rouse is open to office visits (following COVID-19 guidelines, of course), BlueJeans, or even a phone call.
Rouse's passion for athletics started before teaching. She was a student-athlete during high school and college. After graduating from college, she began to teach and coach. Rouse said her own athletic experience "gave an understanding, an edge, to what athletes go through."
Her time as a professor has helped her know how to approach students, listen to them, and ask relevant questions. Rouse added, "If a student is not doing well in class, that is the symptom of something." Her goal is to mentor the student-athletes get to the root of that "something" and resolve the conflict.
At Stevenson, she taught professional writing, journalism, TheVillager (the student-run newspaper), interpersonal, and some special topics courses. Rouse began teaching Journalism in 1995, which then trickled into taking over The Villager. She took it upon herself to make The Villager the best it can be after 36 years at Stevenson.
Although Rouse has a new position, her experiences as a professor will always be the guide for her new job.