With the Spring 2021 season coming to an end, The Stevenson Mustangs Men's Lacrosse team opened the Mid Atlantic Conference (MAC) playoffs. The Mustangs are entering conference playoffs ranked No. 8in the country and 1st in the MAC. 
The Mustangs have been building up an impressive resume all spring by defeating teams like the No. 4 in the country York Spartans, and the No. 18 ranked Stevens Tech Ducks. The Mustangs completed their regular season 7-0, becoming the first team in school history to complete an undefeated regular season. Senior midfielder Justin Trapani said that this has been the most interesting and fun season yet of his five years here at Stevenson, due to all the obstacles faced and how the team handled them together. 
The Mustangs came into the spring 2021 season unranked with a lot to prove and defied all odds against them to have a more than successful regular season. Stevenson has maintained a conference record of 75-0 since entering the MAC and this year teams like York and Eastern entered the conference. Even through a pandemic the Mustangs have maintained comradery and focus to compete in this Spring 2021 season.
There have been many peaks and valleys throughout the course of this season, but what has defined the Mustangs up to this point, according to sophomore defenseman Nicholas Mulvey, is the team's composure throughout the whole pandemic season. Mulvey explained how this season has reflected on all the Mustangs hard work and trust within the team and process. There have been many close games on Stevenson's schedule this season, but whenever the game is on the wire the Mustangs trust and believe in one another enough to find a way to win. Mulvaney explained how important this season has been to the team, and stated, "Many people have returned this season due to last season getting ended so abruptly, many of the seniors had the whole beginning of the pandemic being on shut down to reflect on their final season getting cut short and if they would have done anything different if given the opportunity."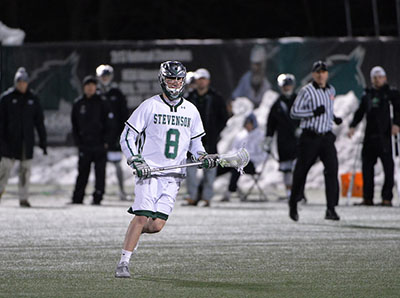 The Mustangs hosted the conference semi-finals May 5 against Widener University, winning 14-6, and will head to the conference championship against York College on Saturday, May 8, at 7 p.m. at Mustang Stadium.