By: Leslie McAlister & Holly Haber 
Imagine being able to read in college without the stress of deadlines, quizzes, or grades. The Greenspring Review Book Club provides students with the opportunity to be a part of a reading community that encourages them to read for leisure throughout the semester and not only for academics.
The club started their first meeting off by determining what students were interested in reading. Hannah Bagley, co-marketing chair of the book club, said, "We had suggestions all over the board, there were some who were into romance, some who were into fantasy, and a couple of us who are interested in realistic fiction. It was really all over the place."
Leah Bayley-Hay, co-communications chair of the club, is happy with the turnout so far. "I was pleasantly surprised by how many suggestions we got and the variety of all the genres we got. We had really good participation." Bayley-Hay said.
During the second meeting, the club narrowed the choices down to the top three books they wanted to read for the month of November, and then students voted. The three finalists were A Good Girl's Guide to Murder by Holly Jackson, The Lost Apothecary by Sarah Penner, and Tuesdays with Morrie by Mitch Albom. Ultimately, A Good Girl's Guide to Murder won the final vote.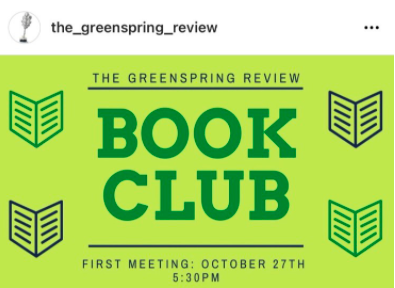 Bagley recommended members resources where they could find the books at an affordable price, like the website Thriftbooks that offers used and reduced pricing on various books, DVDs, CDs, and video games.
Bayley-Hay is excited to get the club up and running with hopes of the club covering a different book every month. "Our plan right now is to meet on the first of the month, pick a book, talk about things, and then we meet on the last of the month to discuss our thoughts on the book," she said. "We also have a GroupMe with each other to communicate in between."
Bagley and Bayley-Hay started the book club with a simple goal in mind. "We just wanted sort of a space and a time for fellow students to be able to read simply for leisure and not just for class and have some fun while also dealing with the semester," said Bayley-Hay. 
When asking Bagley why others should join the club she said, "it's just very laid back and a space where people can just talk and have fun together, so if anyone needs that time or motivation to have a little laid-back fun then this is the perfect club for that."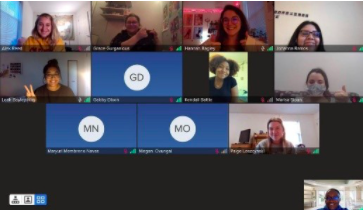 The next meeting will take place via BlueJeans after winter break and will focus on members' thoughts on the book. Bagley and Bayley-Hay plan to use guided questions to help lead members into an open discussion about their observations and thoughts.
Students interested in joining the Greenspring Review Book Club should check out this link Greenspring Review (@greenspringreview) · solo.to and/or follow them on Instagram @the_greenspring_review for the latest updates on upcoming meetings and events.