By: KJ Holton
As winter winds down, some seasons come to an end and others begin. The ice hockey players are skating away while men's and women's lacrosse players are ready to face off with opponents, and men's and women's tennis, baseball, softball, and outdoor track are just getting started.
Sophomore, Micah Ernest, bridges the gap between winter and spring. He is a two-sport athlete who must transition from his winter sport of swimming to his spring sport, volleyball. He admitted that it isn't easy.
"It was definitely a weird transition, hour-wise," Ernst said, "because I went from early morning (practices) to late-at-night. But the way the (volleyball) team is, and the way we all work together, it was a pretty seamless transition and now I'm just glad to be working with a new team."
"At the beginning of the year we set out a lot of goals and we're a good team and we think we can beat a lot of other good teams." He added, "One of our goals is to go far and win our conference then make a run in the NCAA's."
Track is another sport gearing up in Spring 2022, and with much anticipation as well. Jai Raccioppi is a sophomore sprinter for indoor and outdoor track. He runs the 100, 200, 400, and is also a part of the 4×1 and 4×4 relay teams. He said he has a lot of confidence in himself and his teammates.
"We're trying to win the MAC as a team and also, for our relays, we're trying to win nationals," he said. "We got some big goals this year, but I think we can accomplish them."
Raccioppi hopes multiple athletes are sent to nationals. "Even though it's a big goal, a lot of athletes on the team are capable and hungry," he said.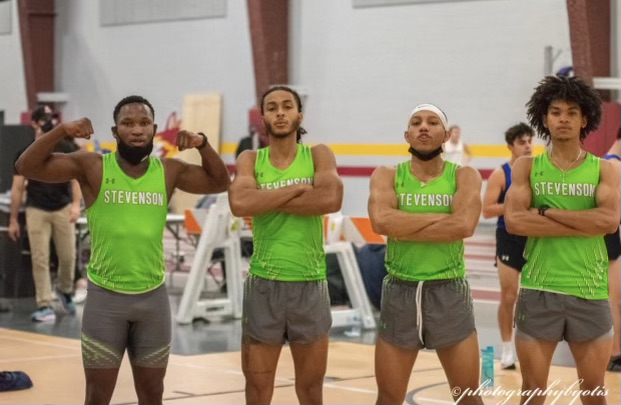 "If this goal isn't accomplished this season there will be many more seasons to attempt again since the team is younger than in the past."
Last year, the team saw success in two former athletes: Dereck Davis and Iddriss Iddriss. Both made it to nationals with Iddriss finishing 2nd overall in the 800m and being named an All-American.
"This year the team has grown much closer and has become more of a family which has helped everyone develop even more," Raccioppi said.
"With new ways to celebrate success among the team such as having an athlete of the week for each gender every week, we grow closer every day."
Though Davis and Iddriss are now gone, Raccioppi believes his team has gained significant newcomers.
Freshman Jubelo Oyeniran is one of those many young newcomers. Even as a first-year student-athlete, he is already making great impressions on his new track team.
"Jubelo Oyeniran is a freshmen sprinter who's expected to finish top eight in the conference in multiple events and featured on both sprint relay teams." He added.
Sophomore Kyla Wilson is another highly-anticipated athlete on the team with high expectations.
"Kyla Wilson is a sophomore sprinter who has been killing it so far this year. She's expected to be a medalist in the 200 and possibly move on to the Mid-Atlantic meet after conference championships."
Raccioppi is very excited to work with his team. His team has been working hard in practice, getting better each day as a team. "Everyone tries to keep each other accountable on staying focused."